"Biscotti - twice baked biscuits originating in Italy. They can be stored for long period of time. This is simple basic recipe. You can add some nuts or dry fruit. These have slightly lemony flavor from lemon zest sometimes I add dry cranberries. We love these dry - crisp biscuits as they are perfect to dunk in your coffee. Ground anise gives them nice aroma and flavor I usually find it in European specialty stores."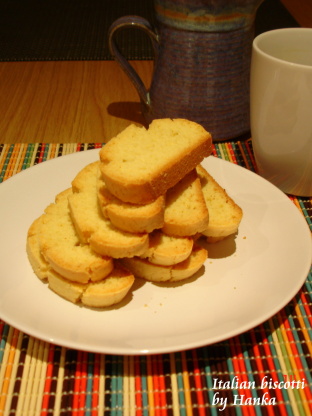 Italian Biscotti
2 recipe photos
Directions
Preheat oven to 375F (190C).
Place baking paper on large cookie sheet.
Mix flour, baking powder, salt, anise in medium bowl.
In large bowl beat butter and sugar until creamy add eggs and lemon zest beating until just blended.
Mix in the dry ingredients to form a stiff dough.
Divide the dough in half. Form into 28cm (11inches) long logs and place 8cm(3") apart on the cookie sheet.
Bake until firm to touch about 25-30min.
Transfer to a cutting board to cool for 15min.
Cut on the diagonal into 2.5cm (1") slices.
Arrange the slices cut-side up on two cookie sheets and bake until golden and toasted about 10-15min.
Transfer to racks to cool.
As they cool down they should become dry and crispy.
Make yourself a coffee and enjoy! :).