"This is my husband's creation, which I devoured with little shame. ;o) (Thanks to reviewer "lnsdzg" for the heads up regarding the couple of missing directions. Much appreciated!)"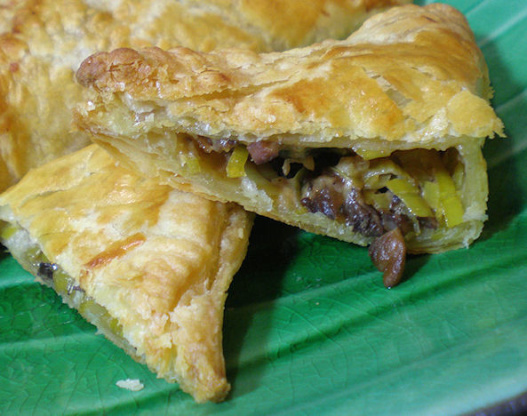 Ivo's Mushroom Leek Puff Pastry Triangles
2 recipe photos
READY IN:

1hr

SERVES:

4

UNITS:

US
Directions
Clean the mushrooms and slice them into slices 1/4" thick.
Heat half the oil and butter in a pan over high heat and add the mushrooms and garlic while the butter is browning.
Grind some pepper over the mushrooms and salt to taste.
As the mushrooms lose moisture and shrink, turn the heat down to medium and continue to fry the mushrooms, turning the slices regularly until they are dark brown. Drain on paper towels, and then chop into smaller pieces.
Remove the outer leaves of the leek and cut off the dark green parts and the bottom 1/2". You're aiming for the white and light green parts of the leek. Halve the leek lengthwise and rinse all layers to clean.
Slice across the leeks thinly, then roughly chop all pieces coarsely. Fry these in more butter in the same pan used for the mushrooms until they are soft, and then drain onto paper towels.
Packages of puff pastry generally contain two sheets, you'll only need one. Take it out and let it defrost (takes about 30-40 minutes).
In a bowl, mix the mushrooms pieces, the leek, the cheddar and the sour cream. Sometimes it helps if you slice the leek into pieces - easier to mix that way. Preheat the oven to 400°F.
Roll out the puff pastry slightly on a floured surface. Cut out 4 squares, about 4-5" to the side.
Put a generous dollop of the leek-mushroom mixture onto one half of each square and fold over the corner to make a triangular pocket. Use a fork to press the folded seam together.
Repeat for the other squares until you have 4 triangular turnovers.
Baste the triangles with the melted butter.
Bake in the oven on a cookie sheet until golden-brown and puffed (takes about 20 minutes). Serve warm.