"This is from the book 'Julia and Jacques Cooking at Home', and is posted by request."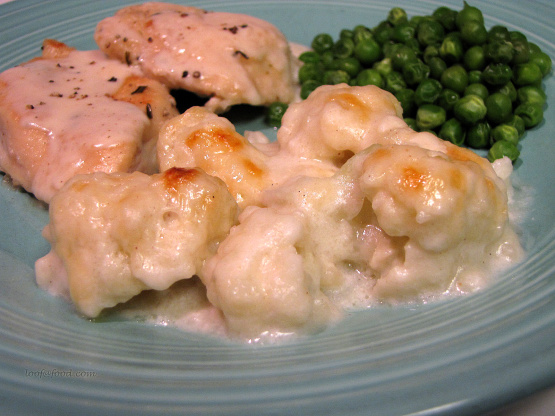 Jacques's Cauliflower Au Gratin
5 recipe photos
1

head cauliflower, 2 1/2 - 3 pounds
1⁄4 teaspoon salt

2

cups milk, plus more if needed
1⁄2

cup cream

4

tablespoons butter (plus butter for the baking dish)
1⁄3 cup flour

1

pinch nutmeg, freshly ground
3⁄4 cup gruyere, grated (or other swiss cheese)
Directions
Preheat the oven to 400°F.
Turn the cauliflower upside down, and cut all around the stem with a sharp knife, slicing off the tough leafy stems that are attached to it. Pick off any remaining leaf pieces that may still be attached. Do not cut the florets apart.
Put the cauliflower, stem end down, into a large pot with an inch of watter and 1/4 teaspoon salt. Cover tightly and bring to a rapid boil. Cook until you can pierce a floret with a sharp knife (about 8 minutes). Carefully lift the cauliflower out of the pot and place it in the gratin dish to cool slightly.
Turn the cauliflower upside down, and slice all around the core, through the floret stems, so the head falls apart. Arrange the florets in a single layer round side up, then chop up the cooked core and scatter the pieces in the dish. Reserve the cooking water for the sauce.
Pour 2 cups of milk, and 1/2 cup cooking water, and 1/2 cup cream into a saucepan and heat slowly. Do not boil!
Melt the butter in a large saucepan, and whisk in the flour to make a loose paste. Cook over medium heat for about 2 minutes while stirring constantly. Don't let it color more than a light beige.
Remove the roux from the heat. Pour the milk mixture into the roux and whisk vigorously to blend. Return to the heat and bring to a gentle boil, stirring constantly. Whisk in 1/2 teaspoon of salt, 1/8 teaspoon white pepper, and a pinch or two of nutmeg. Taste, adjust seasoning as needed to suit your taste. Simmer for 2 to 3 minutes, stirring constantly with a wooden spoon. The sauce should be thick, but pourable. If necessary, thin with a bit of milk or cooking liquid, stirring to blend well, and adjust the seasonings if needed.
Season the florets with 1/8 teaspoon each salt and pepper, and scatter 1/4 cup of the grated cheese over the top. Set the gratin on a cookie sheet, then ladle or pour the sauce over the cauliflower. Sprinkle on the rest of the cheese.
Place the sheet on the middle rack of the oven and bake until the sauce is bubbling and the cheese is browned, about 25 minutes.
DO AHEAD NOTE: The assembled gratin can be made several hours ahead, and store, well wrapped in the refrigerator. Preheat the oven to 375F and allow 30 to 40 minutes for heating the gratin and browning the cheese.