"Lovely soft biscuits (cookies) ideal for morning or afternoon tea. I find berry jam (jelly in US) gives the best flavour, eg raspberry, blackberry, fruits of the forest, etc, although you could use other flavours or probably even marmalade, etc. It's up to you whether you use smooth jam or a chunky conserve - I just use whatever I've got (these are a great way to use up all the almost-empty jars at the back of your pantry!) I usually make a mixed batch, half 1 flavour jam & half another, for variety. NB Aussie recipe - 1 cup = 250ml"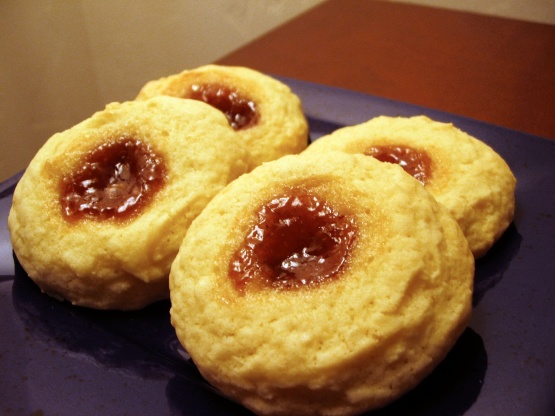 Jam Drops
3 recipe photos
Directions
Cream butter and sugar.
Add eggs and beat well.
Add sifted dry ingredients and mix well. (The dough will be quite sticky).
Place teaspoonfuls approx 4cm apart onto a baking sheet either greased or lined with baking paper.
Make an indentation in the top of each biscuit (I use 2 teaspoons to "dig" a little hole) and fill with your choice of jam.
Bake at 180deg C for 15 mins or until lightly golden.
Cool on wire rack and enjoy!