"I have not tried these muffins. I'm posting this for safe keeping. I found this recipe in Family Fun Magazine."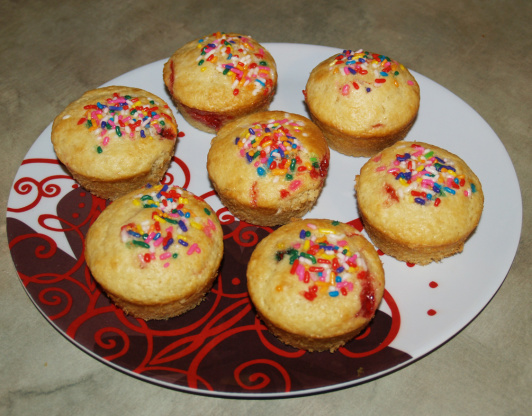 Jam Muffins
1 recipe photo
Directions
Heat the oven to 400. Grease the bottoms only of 12 standard muffin cups. Whisk the jam in a small bowl until smooth and set it aside.
In a large bowl, whisk together both flours and the sugar, baking powder, baking soda, and salt. In a medium bowl, whisk the yogurt, oil, egg, and vanilla extract until well blended. Stir the yogurt mixture into the dry ingredients just until the batter is blended.
Fill the cups halfway with batter and use a spoon to make a shallow well in the center of each. Fill each well with a rounded teaspoon of jam and then cover the jam with more batter.
Bake the muffins for 12 minutes or until a toothpick inserted into the center of one come out clean (there may be jam on it). Let the muffins cool in the pan on a wire rack for 5-10 minutes before removing them. Dust the tops with confectioners' sugar.