"This is a traditional Jewish bread although most cultures have a similar type of bread. It is slightly sweet and eggy. It is traditionally formed into a braid, but can also be baked in a loaf pan (for easier slicing). This recipe makes 2 16 ounce loaves (notice that these loaves are slightly smaller than typical recipes). The smaller size works best in my food processor and I find it is the preferred size of my farmer's market customers. It makes great French Toast. It is also an excellent base recipe for sweet breads (cinnamon raisin swirl, pecan rolls, etc.) I use a 14 cup Cuisinart food processor to make all my breads but the recipe could be adapted to a bread machine, stand mixer, or made by hand. Although the steps look long and involved, I have written them for the novice bread baker -- so I have included a lot of detail. The time to make is just an estimate."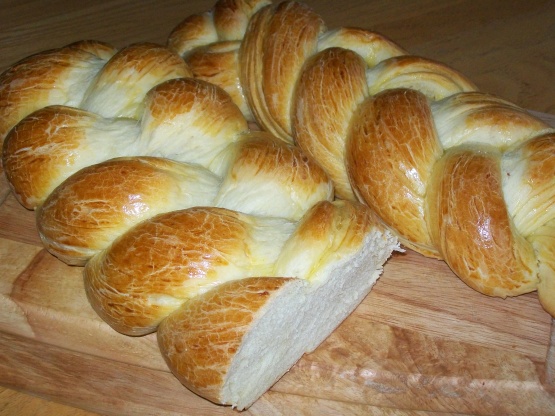 Jane's Challah Bread (Using Food Processor)
2 recipe photos
Directions
Put yeast in 1/2 cup warm water (100 to 110 degrees F). Do not use hotter water or you might kill your yeast. Stir with a spoon until yeast is completely moistened. It will still be a bit lumpy. Let sit 5 to 10 minutes. Stir to ensure that there are no lumps remaining. If you are not sure your yeast is still alive, add a pinch of sugar. The yeast should foam within 5 to 10 minutes. This whole process is called "proofing the yeast".
Meanwhile, beat egg with fork. Add 1/2 cup warm water. Add sugar and salt. Stir until mixed. Add the proofed yeast.
Check your food processor manual to ensure that it is capable of mixing bread dough and what is the maximum amount of flour that it can handle. Note that this amount will be significantly less than the stated capacity of the processor. My Cuisinart Power Prep Plus has a stated 14 cup capacity but it can only handle bread dough made with a maximum of 4 cups of flour. If it cannot handle the full 4 cups of flour in this recipe, process the dough in multiple batches.
If your processor has a separate dough blade, put this blade in the processor. Add the flour (Important: process the dough in separate batches if your processor can't handle the full 4 cups). Add the oil. Process briefly to mix the flour and oil.
Turn the processor on (use the dough cycle if your processor has one). Slowly add the liquid through the feed tube. Process until the dough forms a ball. Then process until the dough is smooth and elastic (my processor takes about 30 seconds to get to this stage, but it could take as long as 90 seconds.). The dough ball will rotate around the processor bowl. Do not overprocess because the dough will heat up during processing and may get so hot that it kills the yeast.
Note that depending on the humidity, the type of flour that you use, and the size of your egg, you may need more or less flour to make the right consistency dough. Most beginners use too much flour. The dough should still be slightly sticky but not so sticky that it "breaks" and sticks to a clean hand.
Turn out onto a lightly floured board and form into a ball. This is your opportunity to check the texture and knead in a little flour if necessary. If it is too stiff and dry, return dough to processor and add a little more water, process until incorporated.
Place the ball of dough into a lightly oiled bowl. Turn ball over to ensure all surfaces of the dough are lightly covered with oil. Cover bowl with kitchen towel or plastic wrap. Place in a warm place (80 to 85 degrees F is best) until doubled in size and an imprint made with your finger remains in the dough. (If you have a separate light switch in your oven, turn the light on when you begin your bread making process and let the bread rise in the oven. The light will warm the oven somewhat. You can also jumpstart the oven by warming it to the lowest setting, then turn the oven off and leave the door open until the temperature is reduced to no more than 90 degrees.).
Turn dough out on floured board. Knead gently and cut dough in half. Let dough rest for 10 minutes. Work with one half of dough at a time.
For braid: cut each dough half into 3 equal pieces. Roll each piece into a long strand (each about 1 inch thick). Braid the strands. Pinch the ends of the loaf and tuck under. Place loaf on a greased baking sheet (I use vegetable shortening to grease my pans because it seems to release the bread better than oil).
For traditional loaf: roll each dough half into a rectangle (about 1/2 inch thick). Turn so long edge is facing you. Fold right half over middle and press to seal. Fold left half over middle and press to seal. You should now have a rectangle that is as wide as your bread pan. Roll the rectangle up (starting at the short end), pressing with your fingers to seal the loaf well (If you don't do this step well you will have large air pockets in your bread). Pinch the ends of the loaf to seal. Place loaf in a greased loaf pan (I use vegetable shortening to grease the pan.). I use a slightly small bread pan (8 inches by 4 1/4 inches by 2 1/2 inches high) which yields a 1 lb loaf.
Use your hands to rub oil on the top of the loaves. Cover with loose plastic wrap or a kitchen towel. Let rise until doubled. (Note that the dough will just have reached the top of the loaf pan (or less, depending on the size of your loaf pan)).
If desired, beat 1 egg yolk with 1 teaspoon of water and carefully brush the top of the loaf. Sprinkle with coarse sugar, poppy seeds or sesame seeds if desired.
Bake in a 325 to 350 degree oven for 25 to 30 minutes. In my oven, a 16 ounce loaf takes 27 minutes at 325 degrees. If you bake the bread too long, it will be somewhat dry and crumbly and will go stale faster. If you don't bake it enough, it will be doughy in the center, even when cool. Note that if you cut properly cooked HOT bread, it will seem a bit doughy. Let the bread cool slightly before cutting (I know that it is nearly impossible to wait).
Some tips: If your bread is dry and crumbly you: added too much flour, cooked it too long, or let it get stale. If your bread is too dark you: had the oven too high (breads with more sugar will darken quicker) or baked it too long. If your bread has large holes you: didn't knead enough after the first rising to remove pockets of air or you didn't seal your loaf as you were forming it.
If your braid is very flat you didn't have enough flour in the dough (note that this braided bread should only be about 3 inches tall. If you want a taller braided bread, stack a second (slightly smaller) braid on top of the first and bake slightly longer.
If you find you enjoy making homemade bread, I suggest that you purchase your yeast in a 1 or 2 lb package at a warehouse type store. In my area (Ohio, USA) a 1/4 ounce (2 1/4 teaspoon) packet costs at least $.50 but a 2 lb package (equal to 128 packets only costs $3.49 -- a HUGE savings).
This bread freezes well for up to 2 months. You can even pre-slice it.
get the genius kitchen app.
Watch on your iPhone, iPad, Apple TV, Roku, or Fire TV.
Learn More