"A classic, but simple take on curry rice that is famous in Japan and is enjoyed world-wide. I got this recipe from one of my Japanese friends when we were little. Her mom used to make it for us as a special treat, and also made us each a small cookbook with our favorite dishes she would make us in it. I came across the book the other day and tried out a few recipes. This was one of them. I hope you guys all enjoy it! ^_^"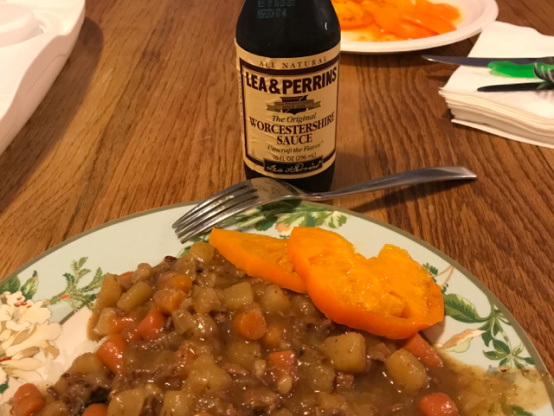 Japanese Curry Rice
5 recipe photos
READY IN:

1hr 45mins

SERVES:

4-8

UNITS:

US
4

cups cooked japanese-style rice

2

potatoes

2

carrots

1

onion (can use one stalk of celery instead if desired)

1

lb pork (all will work great) or 1 lb beef (all will work great) or 1 lb chicken (all will work great)

1

tablespoon cooking oil

1

cup water

1

tablespoon curry powder

2

more onions (for curry roux)

2

tablespoons flour

3

cups water

1

teaspoon chicken bouillon

1

teaspoon beef bouillon

1

teaspoon grated fresh ginger (powdered ginger works as well, but fresh is better)

1

teaspoon grated garlic (once again, powdered works as well, but fresh is better)
1⁄2 teaspoon garam masala (this can be bought or made. Ingredients for this is in directions)

2

tablespoons butter
1⁄4 teaspoon salt (to taste)
Directions
If making the garam masala combined 1 tsp ground cloves, 1 tsp ground ginger, 1 tsp ground cinnamon, and 1 tsp black pepper in a small bowl. Place in an air tight container and put aside.(Note: You will not be using all of this in the recipe.).
Start by cutting your choice of meat, the potatoes, carrots, and onion (or celery) into bite-sized pieces.
Heat a deep pan on medium.
Add the cooking oil and the meat.
Saute until the meat is fully cooked.
Add vegetables and saute together.
Add the 1 cup of water to the pan and bring to a boil.
Turn the heat down to low and cook for 40-50 minutes.
In a separate pan heat the 3 cups of water and add the two types of bouillon to make soup.
Slice the remaining two onions very thinly. (it will be better for the recipe this way).
Heat butter in another pan and saute onion slices until they are brown for 15-20 minutes.
Add the garlic and the ginger to the pan and saute well.
Add flour and curry powder and saute over low heat.
Slowly pour the soup into the pan, little by little, stirring quickly.
Simmer the curry roux until thickened. (Resist the urge to add more flour. It may seem a little thinner than desired, but it will thicken once added to the meat and vegetables.).
Once the curry roux is thickened, add the garam masala. (Try to sprinkle it in, instead of dumping the lot of it inches If there are clumps, it will take longer to dissolve).
After the meat and vegetables have been cooking for 40-50 minutes add the curry roux to them. (Do not drain the meat and vegetables first. The water remaining will flavor the curry further).
Stir and let simmer for ten minutes.
Sprinkle with salt.
Serve the curry over Japanese rice.