"While teaching the 2013 "Cuisine Around The World" cooking elective at my daughter's charter school each 3rd-5th grade student created their own bento box and onigiri for our day in Japan. A bento is the Japanese version of our "brown bag" lunch. They're fun and easy to make, and kids can enjoy making their own lunches the night before. The ingredients list is just some ideas to get you started. The yield is for 3 cups of cooked rice. That amount made about 4 onigiri when we were figuring out how much rice we'd need for 30 students. My students really enjoyed getting creative with their bento and onigiri. The photos are actually some of my students' creations."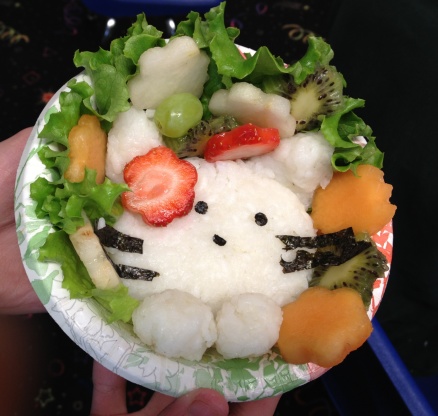 Japanese Onigiri and Bento Box
5 recipe photos
3

cups cooked sushi rice (I find it in the oriental aisle of my local Fred Meyer or Kroger)

1

cup water (salted, and in a bowl big enough to dip your hands in)

1

melon (cantaloupe, honeydew melon, watermelon)

1

strawberry (raspberries, blueberries, blackberries, cherries)

1

apple (pears, Asian pears)

1

pineapple (mango, starfruit, kiwi, small orange sections)

1

nori (seaweed sheets)

1

carrot (celery, asparagus, beans, peas, cucumber, radishes)

1

greens (lettuce, spinach, parsley)

1

deli turkey (ham, beef)

1

cheese

1

bread (or sandwiches cut into shapes)

1

cracker (fishy crackers)
Directions
Cook sushi rice according to package directions. Do not add vinegar or sugar like we would when making sushi. We just want plain rice.
Once cooled, dip your hands in the bowl of salted water and take a handful of rice. Mold it into a ball, triangle, or pack it (very tightly) into a cookie cutter, then unmold the shape. Or make a flat disc and put some leftover meat into the center. Fold up the edges of the rice disc to hide the filling, or add more rice on top and form into a ball or triangle. Keep your hands wet to keep the rice from sticking.
Using cookie cutters or a paring knife, cut fruits, veggies, meats, cheeses, sandwiches, or anything else you can think of, into cute shapes. Stack them, line them up, or create scenes and characters with them.
Silicone muffin cups are great for keeping foods separate that will either leak juice onto dry foods, or roll around like blueberries and peas.
Use craft punches or scissors to make shapes out of the nori (seaweed sheets) and stick it on the onigiri. It'll stick nicely to the rice.
For a great demo on making bento box lunches for kids, check out the alphamom website here: http://alphamom.com/family-fun/how-to-make-a-kids-bento-box/.
get the genius kitchen app.
Watch on your iPhone, iPad, Apple TV, Roku, or Fire TV.
Learn More