"I was surprised to see that there were no postings for Jellied Cranberry Sauce here, I wanted to make some for Thanksgiving, luckily I found it in Bernardin's Guide To Home Preserving. Times are a guess. I was done in about an hour."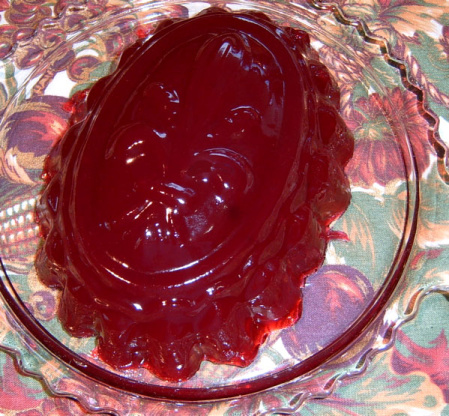 Jellied Cranberry Sauce
2 recipe photos
Directions
Place two clean 2 cup or four 1 cup straight-sided mason jars on a rack in a boiling water canner; cover jars with water and heat to a simmer (180 F/82 C). Set screw bands aside; heat lids in hot water, NOT boiling (180 F/82 C). Keep jars and lids hot until ready to use.
Wash cranberries; drain. Combine cranberries and water in a large stainless steel saucepan. Bring to a boil; cook until skins burst. Puree mixture and return to a clean saucepan.
Add sugar. For spicy sauce, tie cinnamon and cloves in cheesecloth square, making a spice bag and add to cranberries, Gradually bring mixture to a boil, stirring until sugar dissolves. Increase heat, boil vigorously until mixture reaches gel point. Discard spice bag, if using.
Ladle sauce into a hot jar to within 1/4 inch of top rim. Using nonmetallic utensil, remove air bubbles. Wipe jar rim removing any stickiness. Center lid on jar; apply screw band securely and firmly until resistance is met- fingertip tight. Do not overtighten. Place jar in canner; repeat for remaining sauce.
Cover canner; bring water to a boil, At altitudes up to 1000 feet, process-boil filled 1 cup jars-10 minutes; 2 cup jars-15 minutes. Remove jars without tilting. Cool upright, undisturbed 24 hours; DO NOT RETIGHTEN screw bands. After cooling check jar seals. Sealed lids curve downward.Remove screw bands; wipe and dry bands and jars. Store screw bands separately or replace loosely on jars, as desired. Label and store jars in a cool, dark place.
get the genius kitchen app.
Watch on your iPhone, iPad, Apple TV, Roku, or Fire TV.
Learn More