Want more from Genius Kitchen?
Watch on your Apple TV, Roku, or Fire TV and your iOS, Fire, or Android device.
Learn More
"This is one of the most fun ways to make (and serve) Jello shots, where you do not need plastic shot glasses... you just eat the entire thing. Be careful tho, once I took these to an "adult" Christmas party, and we found a few of their grand-kids chomping on them... YIKES!!! Keep in mind that these take quite a bit of time to carefully hollow out the apples, but well worth it. They are so cute after being sliced and plated. Everyone who enjoys a caramel apple will love these. (I guess they can be made without the alcohol for a kid friendly version, maybe just using 1/4 c water and a few tablespoons of caramel sauce to replace the butterscotch schnapps or caramel vodka. I've never tried). Hope you enjoy them. (NOTE: Cook time includes refrigeration time)."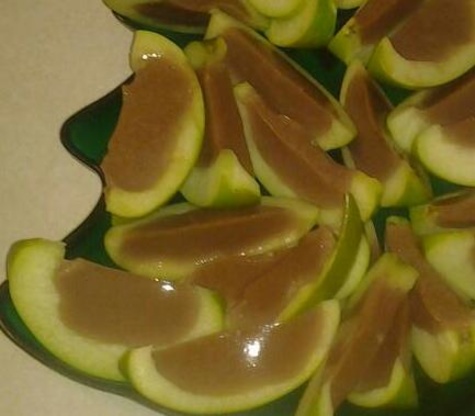 Jello Shots: Caramel Apple
2 recipe photos
6 -8

granny smith apples
1⁄2

cup whole milk (I'm sure you could use 1% or 2%)

1⁄2 cup cold water

1

(3/4 ounce) envelope hot chocolate powder (WITHOUT marshmallows)

1

(1/4 ounce) envelopeof knox unflavored gelatin
1⁄4 cup granulated sugar

2 -4

drops yellow food coloring

1⁄2 cup butterscotch schnapps (your favourite brand) or 1⁄2 cup caramel vodka (I use Smirnoff Kissed Caramel vodka)
1⁄4 cup lemon juice (to prevent browning of apples)
Directions
In medium sauce pan, whisk together the cold water and hot chocolate envelope until no clumps are visible. DO NOT heat yet.
Once mixed thoroughly, sprinkle the envelope of Knox gelatin over the top and LET IT SIT, DO NOT STIR for 2 minutes.
Turn your stove top burner to a medium low setting and completely mix in the gelatin, then the milk and sugar. Slowly bring the mixture to a low simmer a few minutes just until the sugar is dissolved. At this point you can start adding the food coloring to the color you like.
Remove the pan from the heat and let sit until room warm. Meanwhile, place lemon juice in a small bowl (I only use approx 1/4 cup), and prep the apples by slicing each in half from stem to bottom (DO NOT peel). Using the smaller end of a melon scoop (if you have the size option), carefully hollow out the inside of the apples, to where you only have approx 1/4 " outer shell, being careful not to get to close to the outer peel. While carving each apple, dip the hollowed halves in a dish of lemon juice to coat the rim of the apples to prevent browning (you will not taste it). Place each hollowed out half in muffin tins.
Once the mixture is just warm, you can now stir in the Butterscotch Schnapps or Caramel Vodka (I prefer the Smirnoff Kissed Caramel vodka). Either will work and there are many brands of both available. Mix well.
Pour enough jello mixture into each hollowed apple shell, being sure that they are level in the muffin tins. Fill to the tops of each. Place in fridge for a minimum of 4 hours (I have even made them the night before I take them somewhere, without slicing the wedges, and just trimmed the rim of the halved apples if they had browned).
Once set, remove apples from muffin tins and slice each half into 3-4 wedges (depending on the size of your apples). Plate them on whatever tray you plan to serve on and return, loosely covered, to the fridge. (TIP: It is best to cut them just before serving, since the freshly cut edges will brown).
Serve and enjoy!
get the genius kitchen app.
Watch on your iPhone, iPad, Apple TV, Android, Roku, or Fire TV.
Learn More