"You will love these pancakes. I always make extra and freeze them so my granddaughter can have some before school. Quick Tips: How to Freeze Pancakes - 1. Place a sheet of wax paper between each pancake and stack together. 2. Wrap the stack of pancakes tightly in aluminum foil or place inside a heavy-duty freezer bag and freeze. 3. Use the frozen pancakes within 1 to 2 months for best quality. Next Tip: How to Reheat Frozen Pancakes: - Microwave: Remove foil and wax paper. Place 3 frozen pancakes in a stack on a microwave-safe plate. Microwave uncovered on high for about 1 to 1-1/2 minutes, or until heated through. - OR - Conventional Oven: Place frozen pancakes in a single layer on a cookie sheet and cover with foil. Bake in a 375°F oven for about 8 to 10 minutes, or until hot."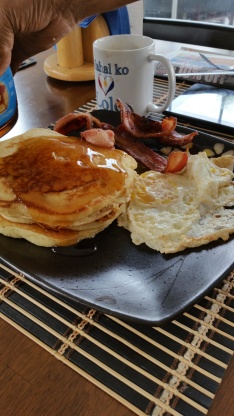 Jim's Buttermilk Pancakes
4 recipe photos
Directions
In a large bowl, combine the dry ingredients (flour, sugar, baking powder, baking soda, and salt).
In a separate bowl, whisk together buttermilk, milk, vanilla extract, eggs and melted butter.
IMPORTANT: Keep these two mixtures separate until you are ready to cook.
Heat a lightly oiled griddle or frying pan over medium heat.
Pour the wet mixture into the dry mixture, using a whisk or fork to blend. Stir until it's just blended together.
Ladle the batter onto the griddle until they form a pancake that is approximately 5 inches in diameter. When you see the edges look dry, or the bubbles are not being filled in after popping, flip it. The second side will be done in about 2-3 minutes. Be sure both sides are brown and serve hot.