"This sauce is creamy and smooth. The original recipe called for evaporated milk, but I made a substitute that turned out delicious. I will include the substitute here as it should be prepared well before hand and let cool. The evaporated milk substitute contains 1 1/8 cup Better Than Milk Soy Powder 1/2 cup warm water 1/4 cup raw cane sugar. The preparation instructions are below with the directions. Once this evapourated milk substitute is cooled combine with the rest of the ingredients for the Vanilla Sauce and pour over your favourite bread pudding or cake. Below are the ingredients for the Vanilla Sauce."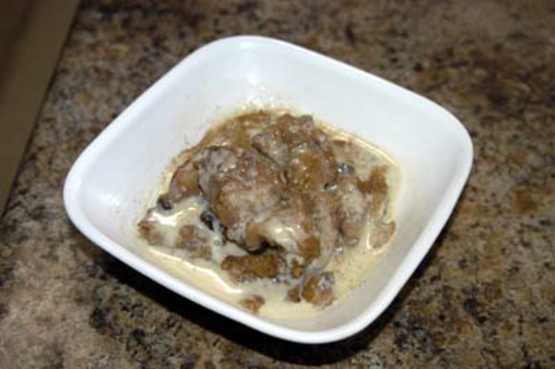 Joey's Vegan Vanilla Sauce
1 recipe photo
Directions
For the Evaporated Milk Substitute:.
In a double boiler over gently boiling water combine the warm water and the Better Than Milk Soy Powder. Mix well with a whisk.
When this is hot to the touch add in the cane sugar and stir gently until its dissolved.
Remove from the saucepan and put in a dish and cool in the fridge.
For the Vanilla Sauce:.
In a heavy sauce pan combine the arrowroot flour and sugar.
Stir in the Evaporated Milk Substitute.
Cook this over medium heat until bubbly and boiling. Stir this constantly with a whisk for 2-3 minutes.
Take it off the heat and add the Earth Balance margarine and vanilla (or other flavoring if you prefer).
Bon Apetit!