"This recipe was part of an article about Julianna Margulies in Good Housekeeping May 2013. Searching for it online did not give me a recipe to save - so I am submitting it to keep ! They just sounded so good and easy enough that I could make them. I hope so ! Original recipe stated use 1/4 Cup - People who tried stated a Tablespoon or Scoop makes the 18 macaroons."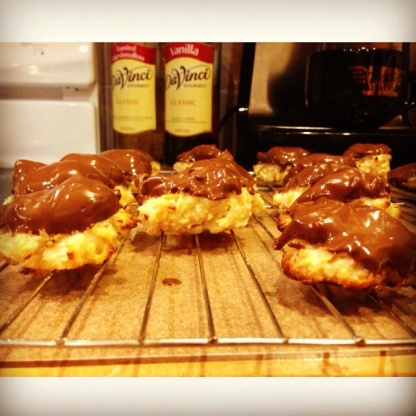 Julianna's Macaroon Recipe
1 recipe photo
Directions
Preheat oven to 350 degrees. Grease large cookie sheet.
In large bowl, stir together flour, coconut and salt. Add condensed milk and vanilla; stir until well combined.
Drop batter by Tablespoon / scoop (original recipe called for 1/4cupfuls), 1 inch apart, onto prepared cookie sheet. Bake 15 to 17 minutes or until just golden on bottoms. Transfer to wire racks to cool completely.
When cookies are cool, dip top halves into melted chocolate of your choice; let stand until set.