"Something I always wanted to try to make was cinnamon rolls. I'm always turned off by the ones made at various places because they are either swimming in some sort of buttery cinnamon goo, or they have icing poured all over them. That's just too much sweet for me.. So in my hunt to find a decent recipe- I ended up coming up with this.. The apple parts were add in honor of my husband.."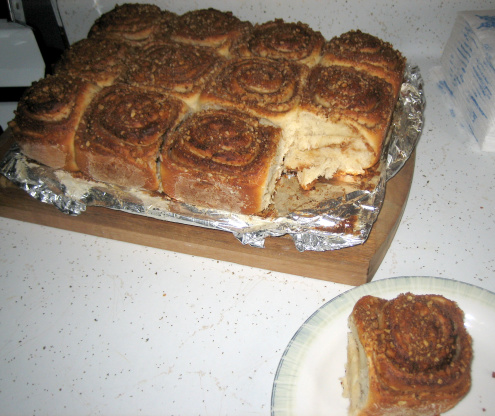 Jumbo Apple Cinnamon Rolls
7 recipe photos
Directions
Mix together water, powder sugar and yeast - set aside for 10 minutes. It will become foamy.
In sauce pan over low heat - mix milk, sour cream, butter, sugar and applesauce. Do not boil. Remove from heat when mixture is warm.
Stir in yeast mixture.
Beat in the eggs.
Add flour gradually; 1 cup at a time- keep batter smooth.
Knead the dough.
Place dough in a large bowl and set inside a cold oven for 1 1/2 hours.
While you wait, Create your filling. Starting by Washing, peeling and dicing up your apples.
In sauce pan on low-med heat - cook together butter, applesauce and diced apples, sugars and cinnamon.
To prevent burning, stir frequently- mixture is ready when apple pieces are fork tender.
Now pour contents into food processor or blender, process until apple pieces are finely chopped. Transfer mixture to a bowl and let it sit until dough is ready.
Now take out your risen dough, flour your work surface well - sprinkle with a bit of ground cinnamon.
Roll out your dough into a large rectangle.
Spread over the dough, but remember to leave at least a 1 inch margin along one of the longer sides of your rectangle.
Now starting at the opposite side, carefully begin to roll your dough.
Use a little bit of water to seal the ending side.
Begin to evenly cut your dough into 12 slices. (I find that using a piece of string to do this task prevents your roll from getting smashed).
Place slices swirled side facing up in greased and floured cake pan.
Again let dough rest in cool oven 1 hour or cover with plastic wrap and refrigerate over night (makes for a nice breakfast treat).
Before baking, chop together the topping ingredients in a food processor. Sprinkle this over the rolls. (This can also be done before refrigerating).
Bake at 350°F about 45 or until done - edges should be a golden brown.
ENJOY!