"One of my favorite restaurants in Seattle was Kaleenka's on First Avenue. I loved their borshch and piroshky, and I always felt warm and comfortable in the restaurant. Kaleenka's has unfortunately closed, but I did find their recipe for piroshky in "Dining Ethnic Around Puget Sound" which was published in 1993. Kaleenka featured good Russian hearty fare, traditional cooking from the Ukraine, Uzbekistan, and Georgia. The name "Kaleenka" was derived from a ubiquitous shrub that grows all across Russia, which is revered since ancient times as a symbol of the land and culture. The Kaleenka notes that "piroshky" is derived from a Russian word pronounced "peer," which means "feast." Many different fillings are common, including chicken, fish, and fruits, but this beef and cheese filling is the favorite. Prep includes time for the rising of the dough."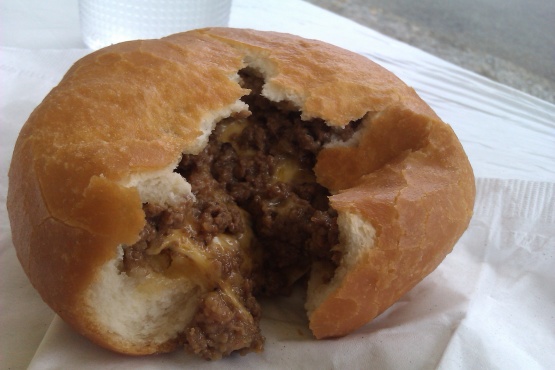 Kaleenka Piroshky
1 recipe photo
READY IN:

1hr 50mins

SERVES:

4-6

UNITS:

US
Directions
In a skillet, brown the onion in oil, about 7 minutes; remove and set aside.
Brown the ground beef in the skillet, drain the grease, then add in the cooked onion, garlic, salt, and pepper; set aside.
(The original recipe had you then chill the mixture to 40 degrees and"pick out solid fat," but that's a step I forgo).
In a small ceramic or glass bowl, dissolve the yeast in the warm water and let stand for 11 minutes.
In a large bowl or using a large stand mixer, place 4 cups of the flour, sugar, salt, egg, the remaining oil, water/yeast mixture, and the milk; mix together (use a dough hook attachment if you have one), adding additional flour as needed to make the dough soft but not sticky.
Knead, either for about 10 minutes by turning out onto a floured board and doing it by hand or by using a dough hook in a mixer on slow speed for about 6 to 7 minutes.
Place in a large bowl, cover with a towel, and let rise for 45 minutes to 1 hour; punch down.
Preheat oven to 350 degrees F.
To fill the piroshky, pinch off a piece of dough about the size of an egg and roll it out to 1/8-inch thick, then place a cube of cube of cheese and 2 tablespoons of meat filling in the center.
Lift up the edges of the dough and bring it up to the top, pinching together tightly to completely enclose the filling and so that the dough knits together.
Place the piroshky on a microwave-safe dish or tray, seam-side down, and microwave for 10 seconds; set aside and let rise for 10 minutes.
Repeat the piroshky construction, microwaving, and rising with remaining ingredients.
Place risen piroshky (all of them) on a non-stick baking sheet and bake at 350 degrees F until golden brown, about 15 to 20 minutes depending on your oven; alternately, you can deep fry them at 300 degrees F until golden.
Note: you might also be able to run the dough ingredients through the initial preparation steps in your bread machine, to make it especially easy!