"Found this in an article in Good Housekeeping on the Eat-and-Lose-Weight Plan (week 4). This is a version that has more fiber than the original."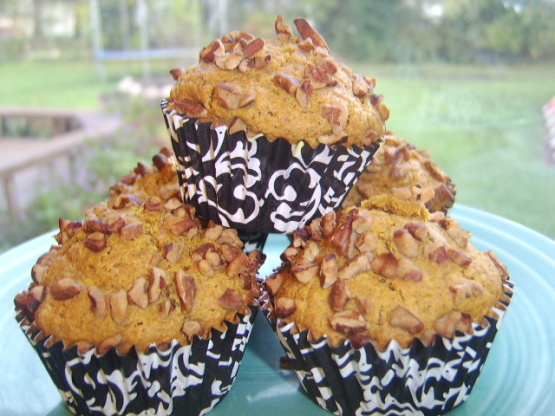 Kansas Pecan Topped Pumpkin Muffins (Good Housekeeping )
1 recipe photo
Directions
Preheat oven to 400 degrees and grease 16 regular size muffin cups.
In large bowl, combine flours, baking powder, pumpkin-pie spice and salt. In medium bowl, with whisk, mix milk, pumpkin, brown sugar, melted margarine/butter, vanilla and eggs until blended; stir into flour mixture until just moistened.
Spoon batter into muffin cups. Sprinkle tops with chopped pecans. Bake 20 - 30 minutes until toothpick inserted in center comes out clean. Immediately remove from pan. If keeping for later, cool and then wrap each muffin separately in plastic wrap and freeze or refrigerate. Warm in microwave for 15 seconds on high.