"This is a great side dish and so yummy, it could also double as a dessert: the product of an accident gone good, very good.- - - - - - - - - - - - - - - - - - - - - - - - - - - - - - - - - - - - - - - - - - - - - - - - - - - - - - - - - - - - - - - - - - - - - - - - - - - - - - - - I borrowed from several candied yam recipes to come up with a quick and easy version. Then I inadvertently skipped a step toward the end - adding the marshmallows & baking along w/all the other ingredients (instead of waiting for the last 10 minutes like most recipes specify).- - - - - - - - - - - - - - - - - - - - - - - - - - - - - - - - - - - - - - - - - - - - - - - - - - - - - - - My "mistake" actually made the final product look and taste even better than I had planned! First time I haven't brought yams back home from a family gathering - when I went to gather up my leftovers, they were all gone!- - - - - - - - - - - - - - - - - - - - - - - - - - - - - - - - - - - - - - - - - - - - - - - - - - - - - - I'll be adding the marshmallows up front "accidentally, on purpose" from now on. :) - - - - - - - - - - - - - - - - - - - - - - - - - - - - - - - - - - - - - - - - - - - - - - - - - - - - - - - - - - - - - - - - Caution! The baking dish and its contents will still be very hot even after sitting to cool! Enjoy!- - - - - - - - - - - - - - - - - - - - - - - - - - - - - - - - - - - - - - - - - - - - - - - - - - - - - - - - - Tip: when removing from oven, if you can see unmelted candies or brown sugar on the sides or bottom of your baking dish, or would prefer a thicker syrup, leave in oven for the longer time; and/or after removing from oven, transfer baking dish only to the microwave and cook on high for 30-60 seconds at a time until desired melting/thickness of syrup."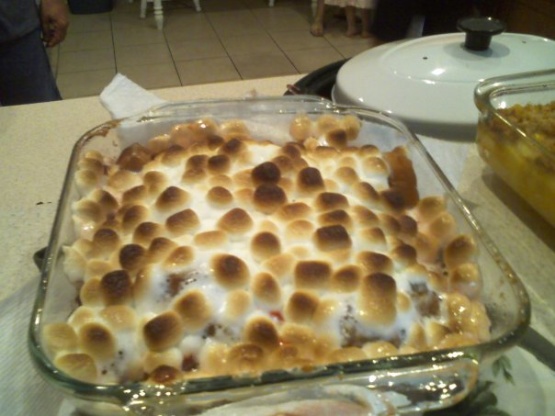 Kathi's Toasted Marshmallow Cinnamon Candied Yams
1 recipe photo
Directions
Preheat oven to 350°F.
Drain the syrup from the cans of yams and add the yams to a 2 quart (approximately 8x8) oven-safe glass or stoneware baking dish.
Cut the butter into 6 or more pats and distribute as evenly as possible atop the dish of yams.
Combine the optional spices and sprinkle evenly over the yams, if desired (adds an aroma/flavor reminiscent of pumpkin pie).
If using unsalted butter, take just a dash of salt between your fingers and rub them together to sprinkle evenly over the yams, if desired.
Sprinkle the brown sugar evenly over all the yams and butter pats.
Sprinkle the red hot cinnamon candies evenly over the yams, butter and brown sugar layers.
Add one layer of miniature marshmallows over the top of the yams, butter, and brown sugar layers. (I used most of a 10 oz bag - you may be able to use the whole bag depending on the size/depth of your baking dish).
Transfer the baking dish to a cookie sheet, jelly roll pan or shallow roasting pan to prevent any spills of sticky residue from ending up on the inside bottom of your oven and/or caked to your oven racks.
Bake at 350°F for a total of 30-40 minutes.
After 5-15 minutes, check on the marshmallows - they should be browning and will smell toasty.
Once satisfied with the level of marshmallow browning, make a tin foil tent and place over the baking dish, careful not to touch or lay the tin foil on the marshmallows.
Continue to bake for the remaining time or until desired doneness.
Remove from oven and let set to cool for 15 minutes before serving.
get the genius kitchen app.
Watch on your iPhone, iPad, Apple TV, Roku, or Fire TV.
Learn More