"When I was a child in the late 50's, my grandmother became ill. My parents and I made the long trip from Norfolk, Virginia to McPherson, Kansas in our old black Buick. During our weeks in Kansas, I remember visiting relatives, riding tractors, and eating amazing meals in farm kitchens. We had to-die-for fried chicken and many Swedish dishes that were all new to me. One hot summer afternoon, my mother sat down in my Great Aunt's kitchen and handwrote many of those old recipes in a spiral bound notebook. When my father passed away, I was delighted to find Mom's notebook. I am passing on these recipes to my family and, of course, to you! This is a wonderful holiday recipe since you can make the mix in advance. When guests visit you can whip up a plate of fresh cookies in about 15 minutes. I love it when the aroma of baking cookies fills the house. Each batch can produce a different tasting cookie depending on what you add to them. Use quick cooking oatmeal for smooth textured cookies or regular oatmeal for chewy. Optional Add-ins: Chocolate chips, butterscotch chips, M&Ms, raisins, nuts, crushed corn flakes, cinnamon, etc. Use your imagination. Each of the 6 batches makes 8-12 cookies depending on drop-size and number of add-ins."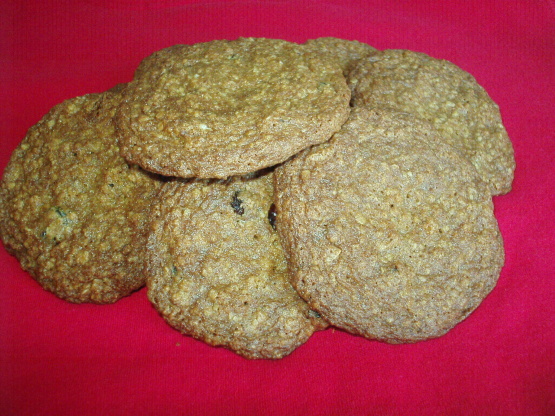 Kat's Mom's Family Oatmeal Cookies
3 recipe photos
Directions
Sift flour, soda, baking powder, salt & white sugar together.
Add brown sugar and softened shortening, blend until crumbly.
Stir in oatmeal.
You can store this mix in a covered container in the refrigerator for up to two weeks.
When ready to bake, stir 1 egg and 1 teaspoon of vanilla extract into 2 cups of mix.
If desired, add any chips, nuts, etc.
Put mix (2 tablespoons per cookie or one level ice cream scoop-full - see picture) on a lightly greased cookie sheet and bake 12-15 minutes in a 350 degree oven until lightly browned.
Let cool on wire rack.