"You could call this recipe "Kentucky Chicken-Fried Pork Chops"! Since reverse-engineering KFC's 'Colonel's Secret Original Recipe Seasoning', I've discovered the best pork chop ever -- one made with my
Bulk KFC Original Recipe Seasoning (Copycat)
. Upon a few trials I decided I like boneless 3/4-inch to 1-inch thick top loin pork chops best for this recipe. So tender, so tasty... I'm sure 'The Colonel' himself would say "Mmm, these are finger-lickin' good!"."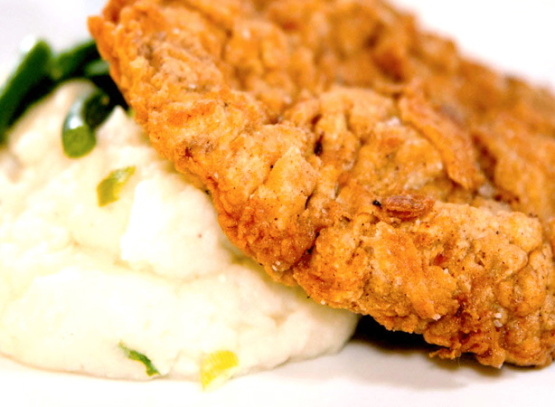 Kentucky Fried Pork Chops
2 recipe photos
Directions
NOTES: FOR LOWER SODIUM PORK CHOPS YOU MAY SOAK THEM IN BUTTERMILK OVERNIGHT INSTEAD OF BRINING. IF YOU WISH TO MAKE GRAVY, FOLLOW Recipe #422335 OR THE RECIPE IN Recipe #487767. (STEP ONE): RINSE fresh or naturally-thawed 3/4-1-inch thick boneless top loin pork chops and blot.
MIX the TENDERIZING BRINE ingredients together in a large resealable container until dissolved: 4 cups water, 1 tablespoon unseasoned meat tenderizer, and 1/2 teaspoon Accent seasoning; ADD pork chops to brine; TRANSFER container to refrigerator; MARINATE pork chops between 4-36 hours in refrigerator, turning chicken as needed (marinate 36 hours for the most tender, flavorful pork chops).
INTO a large resealable container or Ziploc bag, add 1 level cup all-purpose flour and 3 level tablespoons Recipe #453973; SEAL the container; SHAKE mixture well until thoroughly combined.
FILL a large bowl with very warm water; REMOVE pork chops from marinade with tongs; SOAK chops in very warm water a minute.
PLACE 1-2 pork chops at a time into the breading mixture container; SEAL container firmly; SHAKE container gently in all motions to thoroughly coat chops until evenly and generously breaded.
PLACE breaded pork chops on a wire rack; BREAD remaining pork chops; ALLOW chops to rest and absorb the breading for a few minutes before frying.
PREHEAT the manufacturer's recommended amount frying fat in your deep-fryer to 315°F (OR) preheat enough fat to immerse cube steaks completely in deep heavy stovetop pot to 325°F (frying fat will drop to 315 -°F, which you will want to maintain, using a deep-fryer thermometer to gauge).
ADD breaded pork chops to the elevated fry basket in deep-fryer without crowding (if a standard size home fryer is used, add no more than 2-3 pieces at a time); LOWER the basket slowly into the hot fat (or gently lower breaded pork chops using tongs into stovetop pot, turning once halfway through frying duration).
DEEP-FRY pork chops about 7-8 minutes until golden brown and fully cooked, depending on portion/size (meat will no longer be pink and pork juices will run clear when done); PLACE pork chops onto a paper towel-underlined rack to drain for a minute or two; REPEAT the same cooking procedures until all pork chops are fried; KEEP pork chops warmed in a 175°F oven until serving.
FOR SOFTER BREADING: Place pork chops into a large resealable container then seal (the steam will soften the breading for added Original Recipe authenticity). Re-heat pork chops if necessary before serving in microwave oven, using same setting as if reheating 2 frozen pastries; SERVE with gravy if desired and enjoy!