"I make mine on one cookie rack placed on a baking sheet but I'm sure that the chicken could still be great placed directly on a foil-lined baking sheet, although I don't think it would be as crispy. Plan ahead the chicken needs to soak in the buttermilk for a minimum of 4 hours or overnight. If you like a lot of heat then use 2 tablespoons of hot pepper sauce, or you can omit the hot pepper sauce completely, but I suggest adding it in, it really brings out the kick in this chicken---- you will *love* this recipe, I know my family does! :)"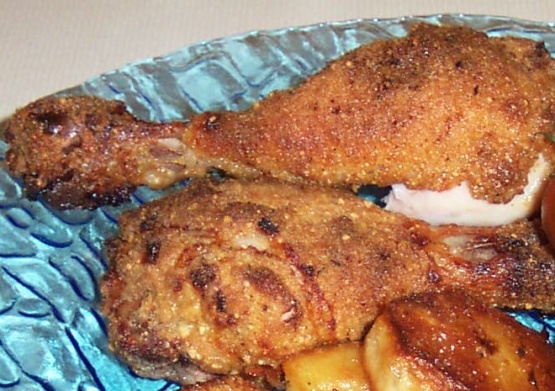 " Kicked Up" Oven Fried Chicken
1 recipe photo
Directions
In a large bowl (large enough to hold the chicken pieces) whisk the buttermilk, oil, hot pepper sauce, minced garlic, Dijon mustard, 1 teaspoon salt and about 1/2 teaspoon black pepper.
Add in sliced onion and chicken pieces; turn to coat/mix well.
Cover and refrigerate for a minimum of 4 hours or up 24 hours, turning occasionally (I marinaded the chicken in the morning and baked it for dinner).
Place a cookie rack on a foil-lined 15x10-inch baking sheet (I was able to get 11 pieces of chicken on one rack).
In a bowl mix together dry breadcrumbs, Parmesan cheese, flour, thyme spice, paprika, cayenne pepper, 1-1/2 teaspoon seasoned salt salt and garlic powder.
Remove the chicken pieces from marinade, allowing any excess marinade to drip off the chicken.
Dip the chicken pieces into the breadcrumb mixture and turn to coat completely.
Arrange chicken (skin-side up) on rack or racks on the baking sheets.
Let chicken stand for 30 minutes, NO more NO less!.
Set oven to 425°F (bottom oven rack).
Drizzle the melted butter over the chicken pieces.
Bake until crisp, golden and cook through About 45 minutes (might take a little longer).