"Posting as requested. We've perfected this recipe to OUR taste (very peppery and garlicky) over 20 years; my mother worked on it for years prior to that, even helping a Polish friend make it for a little Polish grocery store/butcher shop she owned. That said, we've found that it all works differently every year, depending on the quality of the meat, spices and casings. There's always SOME kind of problem! But it ends up remarkably consistent in taste. The directions are deliberately lengthy, the way I wrote them for a non-Polish non-sausage-making friend. And they're a little informal here and there. But DO read them through before you get into this project! Prep time and sausage-making time are actually just a couple of hours each day for 2 days. We use an electric grinder which forces the meat through a horn into the casing.
Kielbasa, How to Cook Fresh Homemade Kielbasa
is our favorite way to cook this kielbasa. Make this 3-4 weeks ahead, wrap very well, and freeze in vac packs. You can also cook it before you freeze it; we don't. We've kept this in the deep-freeze for several months with no loss in quality. Oh, and we call this fresh sausage because we don't smoke it. You certainly can do that, if you like the flavor."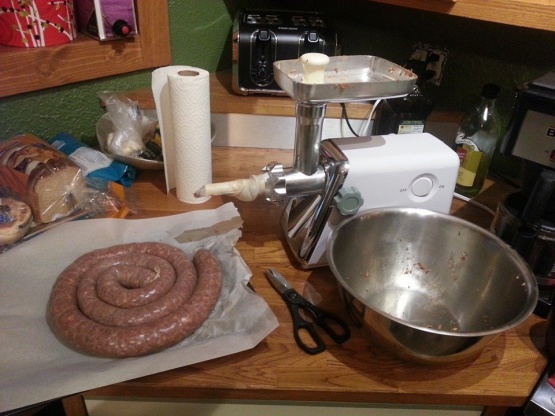 Kielbasa, Homemade Kielbasa, Fresh Polish Sausage
1 recipe photo
Directions
Put the garlic through a garlic press or mince really fine. Put the seasonings into a small pot with a pint of water. Boil and then cool. Here's where my Mom always said taste it and I wouldn't. That could account for the variance in taste from year to year!
Meanwhile, cut the pork off the bone. Cut into strips maybe 1" by 3". Doesn't have to be exact size, we get pretty sloppy with it. Strips go through the grinder better than chunks. Don't trim anything off, unless you just can't stand not to. Trust me, if there's not enough fat, the kielbasa will be dry and hard. DO trim off any bloody-type stuff though. We then put the meat into plastic dishpans, pour the cool liquid over, add about 4 cups ice cubes and mix together until your hands freeze. It should be kinda sloppy. If not, add more water or ice. Cover with aluminum foil or such and put in fridge over night to marinate so the meat soaks up the flavor. Stir occasionally. The ice will probably all be melted the next day before you make the sausage. The meat kind of absorbs the flavors. Yes, it will smell up the fridge. In fact, it will smell up the whole house! Open the windows. Make the neighbors crazy!
Next day, take the casings out and soak in warm water for several hours; it makes them more flexible. Cut in 4 ft. lengths. Shove the meat in the freezer for 1/2 to 1 hour before you start. The meat stiffens up a little and it's easier to put through the grinder. (We forget to do this a lot!) Stick one end of each casing on the faucet and run warm water through the inside of the casing.
Ready? (Keep everything as cold as you can) This is the fun part. Put a little oil on your hand and run it over the horn where the meat will come out. Run casing through fingers to drain slightly. Put a casing on the horn. One person helps push the meat through the grinder while the other holds the casing while it is filling up. It kinda curls up as you hold it. I find for me that it's better if I hold it up while it's filling, less pressure on the casing. We make each one about 12-16". Or until it splits! Tie it off with string or knot the end if you can get it close to the end of the filled casing. Some people twist it every 6" or so to make smaller sausages. If the darn thing splits, you gotta scrape out the meat, dump it back with the other stuff in the dishpan and start over. Some years you're lucky, but some years the darn things split all the time. That's one reason for soaking the casings for a longer time, they don't split as easily. Sometimes it's just a bad batch of casings. Then all you can do is swear at it.
We put the coils of sausage back into clean dishpans (on a rack if possible) and put back into fridge to kinda dry overnight. Then we pack them in Saran, aluminum foil, ziplock bags, anything that will keep the smell in, and put the packages in the freezer. We make 2-3 lb. packages. Since I have a vacuum sealer, I use that. It works really great.
By the way, the sausage is pale because it is not smoked. We don't care for smoked kielbasa. But you can smoke it before freezing. Can't help you with that, though!
We've been able to keep the sausage frozen for months. Just keep everything cold and clean while you're working. Keep a lot of paper towels handy to dry hands, answer the doggone telephone, etc.
We have found over the years, that pork has become much leaner now.That is sometimes a problem. We've considered buying more fat and mixing it in but never have. It worked out all right just not cutting off any fat. But insufficient fat makes for dry sausage.
It takes up about 1-1/2 hours altogether to fill the casings. It's really simple and easy. Of course sometimes we have splashes on the walls when "someone" gets a little rough pushing the meat through the grinder. Hey, that's the fun of it. It's a messy job, but someone has to do it.
Oh yeah, the house smells for 3-4 days. But it smells good. If you like garlic. All the seasonings are to your personal taste. You really need a lot of salt though. The pepper -- eh, how much do you like? We like a lot. Same with the garlic.
We keep a little of the ground meat and cook a couple of small patties of the sausage. That's when you can taste it and find out what you did wrong in the seasoning, too late, of course.
Use the plate in the grinder which grinds the meat coarse. It's better if the meat is a little chunky. You don't want a mealy texture.
If you run a search on google, you can find other information under kielbasa.
One recipe I found says to knead meat and seasonings. Supposedly the more you knead, the more tender the sausage. We've never tried that.
In recent years, we've set aside 3-4 lbs. of the ground sausage meat and made it into small patties like breakfast sausage, and larger patties like hamburgers. The grandkids really like that. We do, too. But for Easter and Christmas, it has to be the links.
get the genius kitchen app.
Watch on your iPhone, iPad, Apple TV, Roku, or Fire TV.
Learn More