Want more from Genius Kitchen?
Watch on your Apple TV, Roku, or Fire TV and your iOS, Fire, or Android device.
Learn More
"I decided to post this because none of the other Kim Chi recipes have a key ingredient that all Korean women I know use: pul, or rice water. I have made kim chee with many different Korean women who come from all over South Korea. I have never made Kim Chee the same way twice, even when I've made it more than once with the same woman. Like good Korean cooks, these women never measure, and I never have either, so the amounts listed are estimates. The taste buds are the ultimate judges, so taste a little of the Kim Chee before you've mixed it all up. Read the entire recipe for tips before buying ingredients. Good luck!"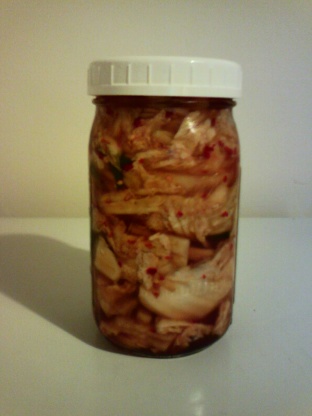 Kimchi or Kimchee
1 recipe photo
Directions
Cut cabbage into four sections through the core.
Starting at the end of the leaves, cut cabbage diagonally back and forth until you reach the core. (Cabbage will be in large square pieces).
Cut radish into large chunks (if you want to be able to use them independently) or into julienne strips.
Layer cabbage and radish in your sink with the salt. Put about 1/2 cup salt for every two inches of cabbage. Make sure you end with salt.
Add water to almost cover cabbage.
Let stand. After 1 1/2 hours start checking the cabbage by rubbing a piece between your fingers. If it's slippery, rinse it and taste it. If it's pleasantly salty then it's ready. Be sure not to let the cabbage stand too long or it will become too salty and will be inedible.
Fill the sink with water until it covers the cabbage then fish the cabbage out of the sink. Return the cabbage to the sink and rinse it this way two or three times until all the cabbage is thoroughly rinsed.
Drain cabbage by placing it in large colander or by letting it sit in your unstopped sink.
Make the pul by mixing the rice flour and water in a small sauce pan and heating to boiling, stirring constantly. Let cool. If you don't have rice flour you can add water to cooked rice and boil it until the water is very cloudy. Use one cup of this water.
Mix pul and remaining ingredients in very large bowl. The amount of red pepper you use should depend on how hot you want your kim chee. There are many kinds of fish sauce. The one cup measurement is for a thin sauce (consistency like soy sauce). For thicker sauces, use less sauce (1/4 to 1/2 cup).
Wearing plastic or rubber gloves, begin mixing the cabbage with the sauce. Use your hands and mix a little cabbage at a time then push it to the side of the bowl until you have mixed all the cabbage. This will help you mix the cabbage and sauce evenly.
Place kim chee in large containers that have tight fitting lids (otherwise it will smell up your fridge).
You can eat the kim chee immediately, but most Korean women recommend that you leave it outside of the fridge for one day, then store it in the fridge but wait one week after that before you eat it. I can't tell you what the difference is because my husband doesn't wait that long.
Enjoy.
get the genius kitchen app.
Watch on your iPhone, iPad, Apple TV, Android, Roku, or Fire TV.
Learn More