"Tart cherries and a streusel topping in a yeast-based shell. Adapted from Culinaria Germany, with the addition of a powdered sugar glaze for drizzling. Cook time includes rising time for the dough. Untried by me, posted for ZWT."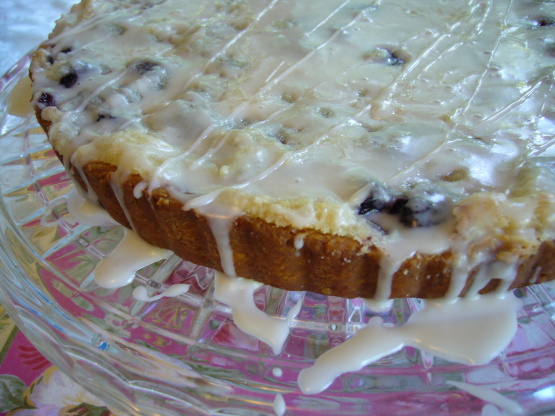 Kirschstreusel (German Cherry Streusel Tart)
2 recipe photos
Directions
Preheat oven to 350 degrees F. Grease a 10" springform tart pan.
YEAST SHELL:.
Sift flour into a large mixing bowl, and make a well in the center. Crumble the yeast into the well, then sprinkle the sugar and salt over it.
Put the milk in a small saucepan with the butter. Gently heat the milk and butter until the butter has melted. Pour this over the flour/yeast. Knead the mixture by hand until it forms a smooth dough.
Cover dough and allow to rest in a warm place for about 30 minutes, or until dough has doubled in volume.
Place risen dough onto a lightly floured surface and knead it again.
Roll dough out and place it into the prepared tart pan, pressing the dough up the sides of the pan.
FILLING:.
Place the cherries in the prepared shell. In a medium bowl, combine the flour and sugar. Using a pastry blender or two forks, cut in the butter until mixture becomes crumbly. Sprinkle crumbly mixture evenly over cherries.
Bake tart in a preheated oven for about 30 minutes. Cool on a wire rack for approximately 10 minutes.
GLAZE:.
In a small mixing bowl, combine the powdered sugar, vanilla extract, and 2 tbs of water or milk. Stir until smooth. If needed, add more water or milk, 1/2 tsp at a time, until desired consistency for drizzling is reached. Drizzle glaze over slightly cooled tart.