"This brine is enough for up to a 20-pound whole turkey and will produce the most juiciest and delicious bird you will ever have, with this brine you will taste only the turkey not any extra herbs or flavorings that are added in to some brines --- I use my food-safe picnic cooler to brine my turkey in it works quite well, you might want to purchase one if you plan on brining your turkey on a regular basis, and you will once you have tried this method just make certain to purchase one that is food-safe --- you may omit the garlic but I strongly suggest to add it --- you must use only kosher salt not regular table salt --- if desired after brining continue with my
Kittencal's Perfect Roasted Whole Turkey (Great for Beginners)
"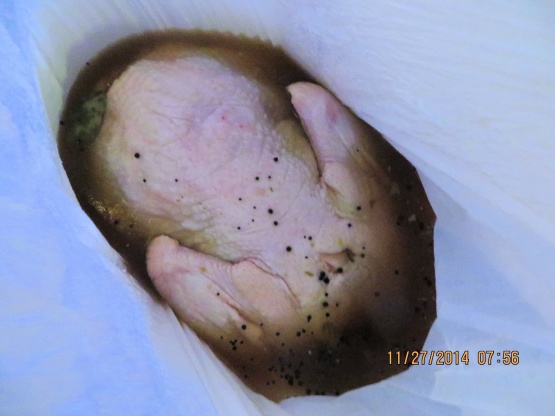 Kittencal's Best Brown Sugar Turkey Brine
1 recipe photo
Directions
In a large bucket or container mix together the warm water with brown sugar and salt; stir until NO kosher salt and sugar granules remain in the water (make certain to use very warm water so that the salt and suagr will dissolve easily and completely).
Add in Worcestershire sauce, peppercorns, and garlic; stir until the Worcestershire sauce is combined.
Cool the water until almost room temperature.
Wash the turkey inside and out with cold water, then place in the brine (if the brine does not quite cover the turkey, then place it breast-side up to start, then turn it over after a couple of hours later).
Place in refrigerator for 24 hours,.
Remove the turkey from the brine and rinse the turkey THOROUGHLY under cold running water.
Pat dry with paper towels then cover and refrigerate if not preparing right away or continue with my turkey recipe (#199612).