"I remember what a treat it was when my Iranian grandmother would come visit and make kotlets on her first day here! As she made them, I would always stand next to her, waiting for the first ones to be done so I could steal a few before dinner. Our family eats them with basmati rice, served with sabzi (parsley, cilantro, basil, radishes, and onion), grilled tomatoes, and yogurt but you could easily transform these into a pita. From My Persian Kitchen."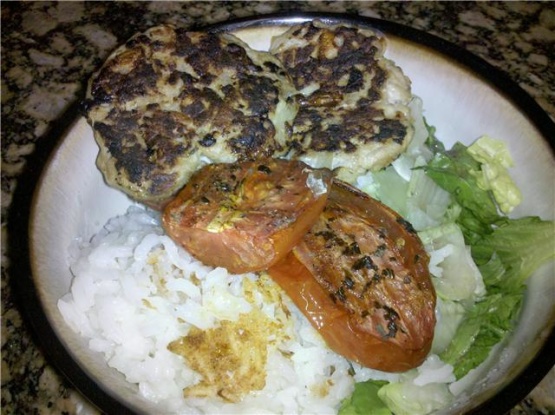 Kotlet - Persian Cutlet
1 recipe photo
1

lb ground beef (ground chicken works nicely too)

1

lb potato

2

eggs

1

onion
1⁄2 teaspoon turmeric
1 1⁄2

tablespoons spices, advieh (can be found at Middle Eastern markets or you can use vegetable or chicken bouillon)

salt and pepper

vegetable oil

breadcrumbs
Directions
Place potatoes in a large pot and cover with cold water. Add some salt, and cook until a fork easily goes through them.
Grate onion in a large bowl.
Once your potatoes are done, peel them, and then grate them in the same bowl with the onion. Mix to combine. (This is traditionally done by hand!).
Add turmeric, advieh, salt, and pepper in the bowl. Mix to incorporate spices into potato-onion mixture.
Crack eggs into the mixture and combine. (If you're still going the traditional route, you continue with your hands.).
Finally, add the ground beef to the mixture and mix. (Again, keep mixing at it with the hands!).
If you find that the mixture is too wet, add breadcrumbs until it becomes more friendly.
Take a small amount out of the mixture (about 2 tablespoons) and make a large meatball with it. Then pat it flat into a patty that is not too thick or too thin. Traditionally they are shaped into teardrops; however, mine just come out as sloppy ovals.
Continue with the rest of the mixture, and as you finish each patty, place it on parchment paper.
Wash your hands, and heat vegetable oil in a large pan over medium heat. Fry a few kotlets at a time, making sure not to overcrowd.
Once you see that the bottom has turned a golden brown where the edges are a rich brown and crispy, flip them over. Add more oil as necessary.
Place a dish with a paper towel in it next to your work station. When removing the kotlets from the pan, try to drain as much of the oil as possible, then place onto the plate.
Serve immediately.
(They are also amazing right out of the fridge the next day :]).