Want more from Genius Kitchen?
Watch on your Apple TV, Roku, or Fire TV and your iOS, Fire, or Android device.
Learn More
"According to Jan Nix in her cookbook, Filo!, "Of all the savory meat triangles I've eaten at Greek Church bazaars, the best, and the one I use as a benchmark, comes from the Dalienes family. As kids, we'd stop by their house on the way home from school, and if Mary's mother was baking, she'd shoo us out of the kitchen with a plateful of her wonderful treats. Mary Dalienes, now Mary Mitchel, says her kreatopetes are more garlicky than those she grew up with." I think these are really good!"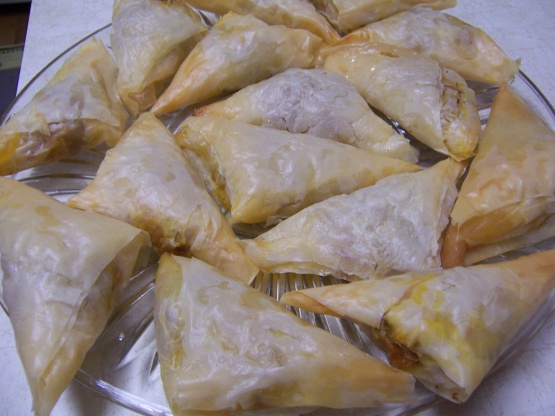 Kreatopetes
3 recipe photos
Directions
FILO STORAGE AND PREPARATION:
Thaw frozen filo, still in the unopened package, in the refrigerator. This will take about 8 hours. Avoid thawing at room temperature as rapid thawing creates moisture and may cause the sheets to stick together.
Fresh or thawed filo has a storage life in the refrigerator of 3 to 4 weeks.
For easiest handling, let the unopened filo stand at room temperature (not over 80 degrees F) for at least 1 hour before using it.
After opening a box of filo, place the unused sheets in a sealable plastic bag, and refrigerate them until your next project.
FILLING:
In a large frying pan over medium heat, cook the onion and garlic in the 2 tablespoons butter until the onion is limp. Crumble in the beef; cook until it is browned. Drain and discard the drippings.
In a bowl, whisk together the tomato paste, water, salt, allspice, and pepper until smooth. Stir this mixture into the meat mixture. Cover the pan, and simmer for 30 minutes. Remove the cover, and cook the mixture briefly, until it is thick and the liquid has evaporated. Remove the pan from heat, and set the mixture aside to cool.
Tip: taste the filling before wrapping and add additional seasonings if necessary. If it tastes good in the bowl, you'll know it tastes good in the final product!
ASSEMBLY (Using a rounded teaspoon of filling for each, fill, fold, and bake the triangles according to the following instructions):
Lay a sheet of filo horizontally on a work surface. Brush lightly with melted butter, nor more than 2 teaspoons per sheet. Lay a second sheet of filo over the first, and brush it with butter.
Cut the filo crosswise into five equal strips about 3 inches wide and 12 inches long.
Place a rounded teaspoon of filling on one end of each strip. Fold over one corner to make a triangle. Fold the triangle over again on itself. Continue folding, from one side to the other, as if you were folding a flag. When you come to the end of this folding exercise, simply trim off with a knife, any extra filo too small to tuck under.
After folding five triangles, place them on an ungreased baking sheet and butter the tops. You can leave the tops plain if you use only one kind of filling, but if you wrap a variety of fillings, identify each kind with a topping such as poppy seeds or sesame seeds.
After folding the appetizers, cover and refrigerate for use in the next 24 hours; otherwise, freeze them solid on the baking sheet, then transfer them to containers with tight-fitting lids and return them to the freezer.
Bake the triangles, uncovered, in a preheated 350 degree oven for 15 minutes (20 to 25 minutes if frozen) or until they are golden brown.
get the genius kitchen app.
Watch on your iPhone, iPad, Apple TV, Android, Roku, or Fire TV.
Learn More