"This is, for all intents and purposes, a gluten free green bean casserole from scratch. No canned stuff here, man! There are a lot of steps, but they can be done more than one at a time. :) I'm using fresh green beans (since I have an abundance from the garden!!) but if you wanted to use frozen, I guess it won't be the end of the world, just make sure they are really well drained. Frozen will need less time to bake, too. Feel free to sub for a different cheese if you like, just be sure it's real cheese and not a clever lookalike. ;) I also thought bacon would be good, fry it up all crispy and sprinkle on the top before baking (might even use the fat to make the sauce). Oh, man, do I ever love the bacon."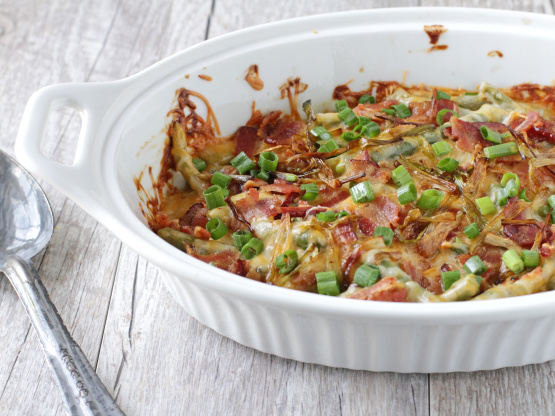 Kristi's Gluten Free Green Bean Casserole
4 recipe photos
READY IN:

1hr 10mins

SERVES:

6

UNITS:

US
Directions
Melt 1/4 cup butter in med saucepan. Work in 1/4 cup rice flour, seasonings and cook until lightly browned (or until it gets a little dry).
Add 2 1/2 cup milk and stir until thickened. It should be thin enough to pour, if it is too thick, add more milk. Leave heat on low. Keep stirring occasionally so that it doesn't clump up.
In a cast iron pan, heat about 1/4 inch of oil. Add mushrooms and fry for about 5 minutes, or until they are golden brown and you can smell mushroomy goodness.
Remove mushrooms from fry pan and drain. Leave the oil in the pan, we'll need that later. Add drained mushrooms and about 3/4 cup cheese to your sauce and stir over low heat until fully incorporated.
Add onions to the hot oil and fry for 4-5 minutes per batch. Don't get too excited or you'll crowd the pan and they'll never cook right. Remove to apparatus of your choice and allow to drain. Repeat until all onions are done. Repeat with jalapenos (they should be able to be done in one batch).
Preheat your oven to 325°F.
While you're waiting for those onions and jalapenos to finish, get out your cleaned and prepped fresh green beans. Arrange them in a 8x8 baking dish or other small casserole. Pour about 1 cup of the cheese sauce over the green beans. Add more if you like it really cheesy. Mix it in the best you can, it won't be perfect.
On top of the green bean and sauce, scatter 1/2-1 cup of cheese. Scatter drained onions and jalapenos and green onions. Stick in oven and bake for approx 40 minutes. Pull out and let rest for 15-20 minutes.
With the remaining cheese sauce, add whatever leftover cheese you might have and stash in the fridge for later. This is super good on veggies and noodles. I have long dark dreams about it sometimes.