"This is supposedly a recipe that Marie Antoinette took with her from Austria to France, where it became increasingly popular. It is traditionally baked in a special Kugelhopf mold, which gives it a festive look (it can be made in a tube pan) Thus it makes a delightful holiday bread. Kugelhopf is an excellent coffee cake or breakfast bread, especially with fresh butter and honey. It can also be served topped with fruit, and makes delicious toast indeed. I seached for this recipe for many years and finally found a Canadian Chef on the internet who was kind enough to give me this one... I get excited over this recipe because I am now 67 yrs old and I can remember my German Grandmother sitting at the kitchen table when I was 5 years old, beating this dough with a wooden spoon...what a wonderful memory and taste !!!"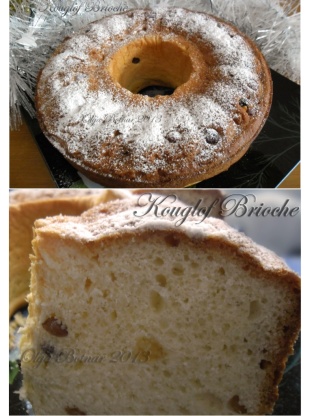 Directions
Dissolve the yeast with the sugar in the warm water and let it proof.
Sift the flour, putting 2 cups in each of two bowls.
Set one bowl aside.
Work together 2 cups of flour and the soft butter (this may be done in the electric mixer).
Mix in the salt and the eggs, one at a time, beating until very thoroughly incorporated.
In alternate batches, add the remaining 2 cups flour and the yeast mixture.
Mix in the electric mixer or with a wooden spoon until thoroughly blended and elastic, then stir in the raisins.
Put in a large, lightly floured bowl, cover with a towel, and let rise in a warm, draft-free spot until doubled in bulk, about 1 to 1 1/2 hours.
Punch the dough down.
Heavily butter a standard 10-inch Kugelhoph mold or a 10-inch tube pan and sprinkle half the sliced almonds around the bottom of the mold (the butter will make them adhere).
Pour or spoon half the dough into the mold, sprinkle in the rest of the almonds, and add the remaining dough.
Let rise again until doubled in bulk, about 1 hour.
Bake in a preheated oven at 475 degrees F.
for 10 minutes, then reduce the heat to 350 degrees and continue baking until nicely browned, about 40 to 45 minutes.
Remove from the oven and let stand for 3 minutes in the pan, then invert onto a cooling rack.