"In my opinion, this is the best no-bake cookie ever devised in the world. It's one of those recipes that surprises you because you never expected it to be as good as it is. The first time I made them they won their place up in my 10 best cookies ever list. And during the Christmas holidays, I'll make them festive by throwing in some red & green glaceed cherries. They won first prize in a Woman's Day/La Choy baking contest."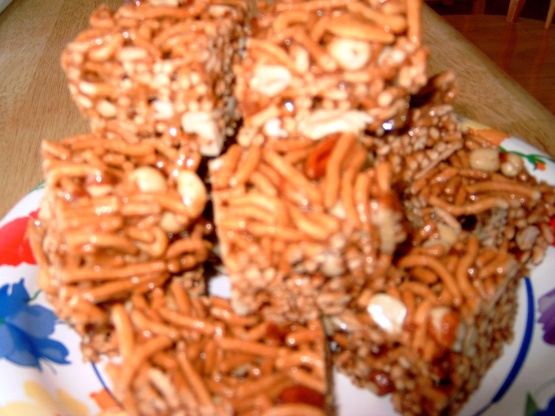 La Choy Honey Nut Crunch Bars
1 recipe photo
Directions
Grease a 9" square baking pan, or spray well with non-stick spray.
Place the butter, honey, brown sugar and cinnamon into a 3-quart saucepan.
Bring to a boil over medium heat, stirring constantly.
Boil for one minute, and remove from heat.
Immediately add vanilla, then noodles, and gently stir until all the noodles are coated.
Stir in the nuts.
Scrape the mixture into the prepared pan and pat down level using wax paper to protect your hands and make it easier to give it a flat surface.
Let the mixture stand at least one hour before cutting into bars with a very large, heavy knife.
NOTE: I find it easier to remove the whole thing in one piece to a cutting board and then slice them.
Makes about 24 bars, depending on how large you slice them.