"You can't go wrong with a Full English Breakfast to start the day, but everyone has their own take on what should be included. Mine may not be fancy, or include chips, but we like it. The hardest thing about this kind of breakfast is the timing. Everything has to come together at the same time. It took awhile to nail it, but I think I've got it down to a fine art now :)"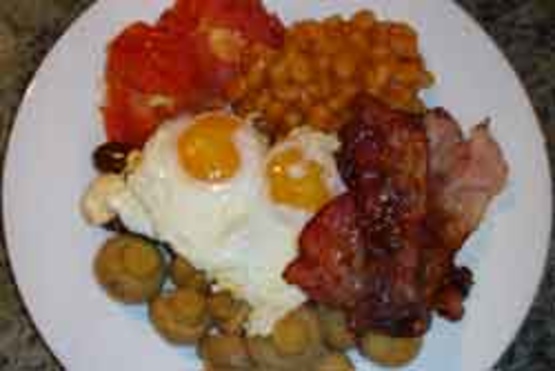 La Gléhias Full English Breakfast
1 recipe photo
READY IN:

40mins

SERVES:

4

UNITS:

US
Directions
Turn on the grill and allow to heat up for about 10minutes. While you are waiting, line the grill-tray with tin-foil (aluminium foil). If you are lucky enough to have two grill-trays, line them both, otherwise, line an oven tray as well.
Put the Sausages and halved Tomatoes (skin side down) on one of the lined trays and the Bacon Rashers on the other. Overlap each rasher slightly, fatty edge on top, in portions of 3. Note: Make sure all of the ingredients are at room temperature before cooking otherwise cooking times may be thrown out.
Empty the Mushrooms into a saucepan and put on the hob on a very low flame, lid on.
The grill should be hot enough to put the Sausages and Tomatoes under.
Put the Oil in a frying pan and break the Eggs into the cold oil.
Empty the Baked Beans into a non-metallic, microwavable bowl and microwave on full power for 2 minutes.
Check the Sausages regularly and turn as necessary. They should take about 10 minutes in total. The Tomatoes should take the same time to cook.
When the Sausages and Tomatoes are ready, remove the tray from under the grill and put Bacon under.
Stir the Baked Beans and put on for another 2 minutes.
Turn the flame on under the Eggs. Stir the simmering Mushrooms and turn the heat up a little for the last minute.
Serve Tomatoes on the plates top-left and Sausages go straight across the middle. I always try to put the Sausages on the plate with the ends curling upwards like smiles. :).
Check the eggs and turn down a little if necessary. Turn off the grill but leave the bacon under.
Mushrooms go around the bottom edge of the plate.
Check the Beans are hot and spoon on the plate top right next to the Tomatoes.
Finish off the Eggs and sit them across the Sausages.
Bacon should be done and goes over the eggs.
Serve immediately, preferably with a cup of English Breakfast tea.
Bon Appetite! :).