"This is a variation of the Vietnamese lacquered chicken. When properly prepared, the bird will have crackling crisp, mahogany-colored skin that shines like Asian lacquer."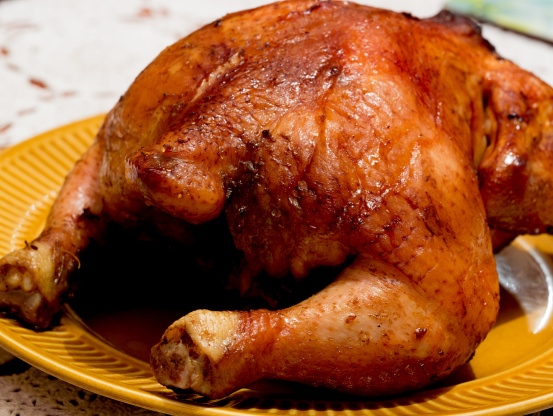 Lacquered Saigon Chicken on a Beer Can
1 recipe photo
READY IN:

25hrs 30mins

SERVES:

4-5

YIELD:

1

bird

UNITS:

US
Directions
Make the marinade: Place the soy sauce, wine, sesame oil, garlic, coriander, five-spice powder, and cinnamon in a large nonreactive bowl and whisk to mix.
Remove the packet of giblets from the body cavity of the chicken and set aside for another use.
Remove and discard the fat just inside the body and neck cavities.
Rinse the chicken, inside and out, under cold running water and then drain and blot dry, inside and out, with paper towls.
Place the garlic and ginger in the main cavity of the chicken.
Place the chicken in the bowl with the marinade or place the chicken and marinade in a large resealable plastic bag.
Let marinate in the refrigerator for 12-24 hours, turning the bird several times so it marinates evenly.
Pop the tab off the beer can.
Pour half of the beer over the soaking wood chips or chunks, if using or reserve for another use.
Make 2 additional holes in the top of the beer can and set aside. Remove the chicken from the marinade and discard marinade.
Hold the bird upright, with the opening of the body cavity at the bottom, and lower it onto the beer can so the can fits into the cavity.
Pull the chicken legs forward to form a sort of tripod, so the bird stands upright.
The rear leg of the tripod is the beer can.
Tuck the tips of the wings behind the chickens back.
Set up the grill for indirect grilling and preheat to medium.
If using a charcoal grill, place a large drip pan in the center.
If using a gas grill, place all the wood chips or chunks, if using, in the smoker box or a smoker pouch and preheat on high until you see smoke, then reduce the heat to medium.
When ready to cook, if using a charcoal grill, toss all the wood chips on the coals, stand the chicken upright in the center of the hot grate, over the drip pan and away from the heat.
Cover the grill and cook the chicken until the skin is a dark golden brown and very crisp and the meat is cooked through (about 180F), about 1 1/2- 1 1/2 hours.
If using a charcoal grill, you need to add 12 fresh coals per side after 1 hour.
If the chicken skin starts to brown too much, loosely tent the bird with aluminum foil.
Using tongs, hold the bird by the can and carefully transfer it in an upright position to a platter. Present the bird to your guests.
Let the chicken rest for 5 minutes, then carefully lift it off the support.
Take care not to spill the hot beer or othewise burn yourself.
Halve, quarter, or carve the chicken and serve with Spicy Peanut Sauce (you can buy it at the store or make from scratch).