"Meat Pies These freeze well pre baked."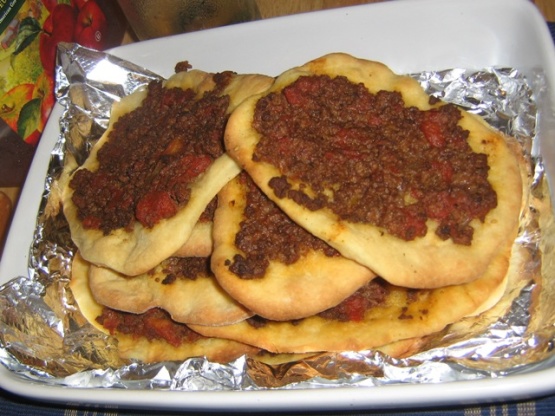 Lahma Bajeen - Meat Pies
1 recipe photo
Directions
Dough:.
Dissolve the sugar in the ¼ cup water. Sprinkle the yeast over the water and let ferment and bubble.
In a large bowl combine the yeast, flour, salt, olive oil, egg, and warm milk. Knead until a soft dough is formed. Dough will be slightly sticky, so always make sure your hands have a little olive oil on them.
Lightly grease the same bowl with olive oil. Return the dough to the bowl, cover with a clean cloth and leave in a warm dry place for at least 2 hours, until doubled.
Meat Filling :.
Heat the olive oil in a heavy large skillet over medium high heat. Add the ground lamb or beef and stir and cook until the meat is crumbly and it is no longer pink.
Stir in the chopped onion and cook, stirring until the onion is soft , about 5 minutes.
Stir in the pine nuts and all of the spices and seasonings. Stir and cook for one minute. Add the chopped tomatoes.
Cover the skillet , reduce the heat to low and cook for 10-15 minutes until the tomato is soft.
Remove from heat. Stir in the fresh lemon juice.
The mixture should not be watery but it should be moist. Set aside to cool.
Assembly:.
Take fist-fulls of the dough and on a floured surface roll out into small balls. Let rest for 5 minutes. Flatten each dough ball into 4" disc, about ½" thick.
Place on a lightly oiled baking sheet and top with meat. Repeat with remaining dough and meat.
Bake until golden brown, about 18-20 minutes. Serve warm.
Best way to eat: Serve hot out of the oven or warm with fresh lemon or plain yogurt.