"These have been a family favourite for decades. Pork dumplings with a tasty peanut butter sauce."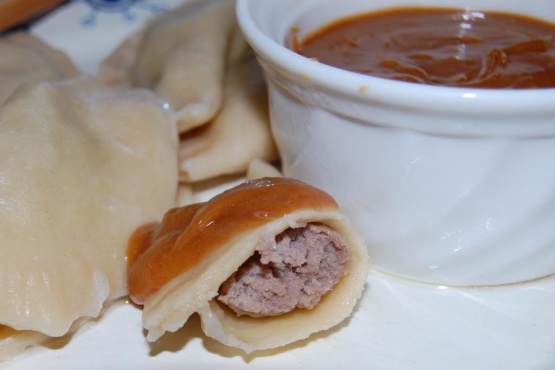 Lai Lai Hunan Dumplings
2 recipe photos
Directions
To prepare sauce: Combine all sauce ingredients in a small bowl.
If I'm short on time, I buy some potsticker dumplings from our local dumpling shoppe. When I have time, I prepare make at home dumplings:.
Finely chop ground pork. Combine pork, soya sauce, salt, white pepper and sesame oil.
Put a small amount of filling in centre of wonton skin, enclose to make a ball-like shape, sealing the skins with a little water. Leave one corner flap extended like a "tail".
Bring a large pot of water to a boil. Put a batch of dumplings in water and boil them until they pop to the surface.
Remove with a slotted spoon and serve with dipping sauce.