Community Pick
Large Batch Chocolate Chunk (Chocolate Chip) Cookies (Oamc)
"I've been making these cookies for over 20 years. I found this recipe in an old Service League Cookbook from the 1950's. The recipe was originally contributed by the Green Bay Day Nursery, and gently tweaked over the years. I can't begin to tell you how many people have asked for the recipe. The cookies do not spread much resulting in a nice thick drop cookie. Because of the large volume of cookie dough this produces, I use my KA Stand Mixer to prepare the dough and just mix the extras in by hand with a sturdy wooden spoon. This dough freezes very well, and can be halved successfully if desired. Don't be intimidated by the long directions as the dough itself is extremely easy, I have added Variations and Fun Tips which make the instructions seem longer. I hope you enjoy these as much as we do."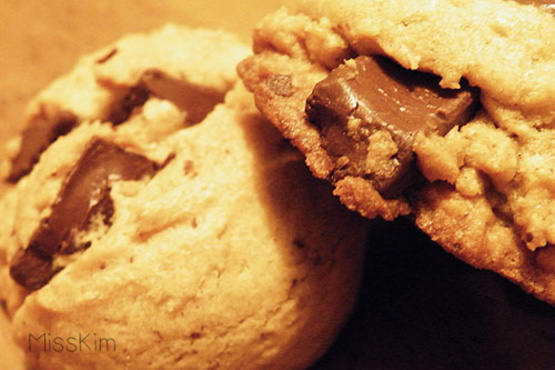 Large Batch Chocolate Chunk (Chocolate Chip) Cookies (Oamc)
3 recipe photos
Directions
Preheat Oven to 325°F.
In a VERY large mixing bowl or largest bowl of your Stand Mixer, add brown sugar, white sugar, and shortening. Cream together very well.
In another large bowl, sift together flour, baking powder, and salt. Set Aside.
Add flour mixture and eggs alternately to the creamed mixture, mix well, scraping down sides of bowl as needed.
Dissolve baking soda in the 4 tbs of HOT water. Add baking soda mixture and vanilla to dough and mix well.
Stir in nuts and chocolate chunks.
Drop by heaping tablespoonful onto an ungreased cookie sheet and bake at 325° for 15-17 minutes. I get 12 cookies to a standard sized cookie sheet.
VARIATIONS/TIPS:
Nuts: Can use walnuts, pecans, macadamia nuts, etc. so long as you have a total of 2 lbs. I measure each type of nut used into it's own bowl, see reason below.
Chocolate Chunks: I seldom use just the chocolate chunks called for in the original recipe. Instead I use a combination of 3 lbs of a variety of baking pieces, and put in separate bowls. Try chocolate chunks, semisweet chocolate chips, butterscotch chips, mini M&M's, vanilla baking chips, chocolate/caramel swirled chips, etc. so long as you have a total of about 3 lbs (about 4 - 12 ounce packages) I have already used a little less than 3 lbs when I just didn't have enough available.
FUN TIP:
Before adding the nuts and chocolate to your dough, divide the dough into 2 bowls. Since you have measured out the nuts and chocolate (or variety of baking pieces)into separate bowls, you can now create a variety of cookie dough flavors. Add whatever combination you would like so long as you add approximately equal amounts to each bowl.
FOR EXAMPLE: Divide cookie dough into 2 bowls. To first bowl add 1 pound chopped pecans, 1 pound chocolate chunks, and 1/2 pound butterscotch chips. To second bowl add 1 pound chopped walnuts, 1 pound caramel/chocolate swirled chips, and 1/2 pound vanilla baking chips. The possibilities are endless. Have fun with this!
When I freeze the dough, I do use my food saver machine. I fill the food saver bag with desired amount of dough and flatten out slightly before vacuum sealing. This way the dough lays flat in the freezer to save space, and thaws more quickly. I take the dough out of the freezer and put in the fridge the day before I plan on baking.
get the genius kitchen app.
Watch on your iPhone, iPad, Apple TV, Roku, or Fire TV.
Learn More