"Not only are these crisp snacks low in fat and salt, they also offer quite a change from the usual snack fare."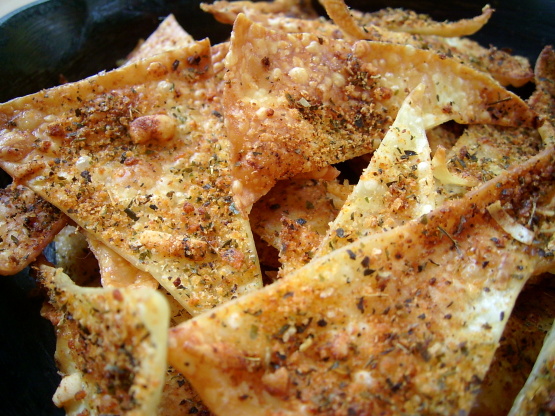 Lasagna Chips
2 recipe photos
Directions
Preheat oven to 400 degrees. Spray 2 large baking sheets with PAM or equivalent.
Cook noodles according to package directions, omitting salt. Drain well and separate noodles carefully.Pat dry with paper towels.
Combine oil and 1/4 cup water in a small bowl. Brush on both sides of noodles.
Cut each noodle crosswise into 2-inch pieces and arrange in single layers on baking sheets.
Combine bread crumbs, cheese, dried herbs, garlic powder, paprika and no-salt seasoning if using. Mix well.
Sprinkle about 1/8 teaspoon over each noodle piece. Spritz with baking spray.
Bake for 16 minutes or until crisp and golden brown. Watch closely.
Cool and store in an airtight container.
Serving size = 5 pieces.