"Quinoa is a delicately flavored grain that was a staple in the ancient Incas' diet and is available in most natural-food stores and the natural-food section of most supermarkets. It can be bought pre-packaged or in bulk. Toasting the grain before cooking enhances the flavor and rinsing removes the bitter protective coating. Unlike wheat or rice (which are low in lysine), quinoa contains a balanced set of essential amino acids for humans, making it an unusually complete protein source. This is my adjusted version of a recipe I found on EatingWell.com, from December 2005. It's a healthy, low-fat vegetarian dish with a nice mix of spice, textures, and flavors. Hot it up with some red pepper flakes if you prefer!"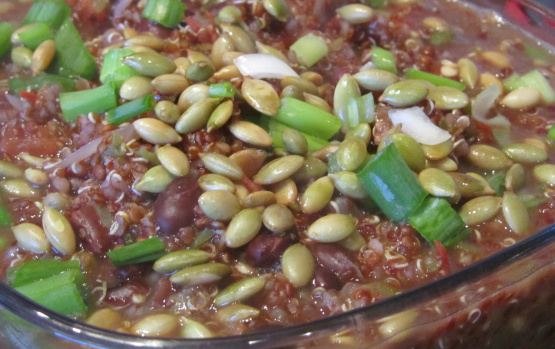 Latin Quinoa
7 recipe photos
Directions
Toast quinoa in a large dry non-stick skillet over medium heat, stirring until it crackles and becomes aromatic, about 3 to 5 minutes. Transfer quinoa to a fine sieve and rinse thoroughly, until water runs clear.
Heat oil in a large saucepan over medium heat. Add onion and red pepper and cook, stirring often, until softened, 2 to 3 minutes.
Add green chilies and garlic; cook, stirring for about 1 minute.
Add chili powder and cumin; stir, cook until fragrant, about 1 minute.
Add the quinoa, black beans and broth; bring to a simmer. Add dried cilantro if using.
Reduce heat to maintain a gentle simmer, cover and cook until the quinoa is tender and most of the liquid is absorbed, 20 to 30 minutes.
Add pumpkin seeds, scallions, fresh cilantro (if using), lime juice and salt to the quinoa; mix gently to fluff quinoa and serve.
NOTE: I buy organic roasted pumpkin seeds pre-packaged at the grocery store. To toast pumpkin seeds, toast in a small dry skillet over medium-low heat, stirring constantly for 3 to 5 minutes, or until fragrant and lightly browned. Remove immediately from pan and cool.