"Lavender and Rosemary Spiced Walnuts are great sprinkled in salads, as cake or cookie decorations, or served as a healthy appetizer or snack. Would make a delightful hostess gift, presented in a tin and tied with a pretty lavender ribbon. From Sharon Shipley's Lavender Cookbook."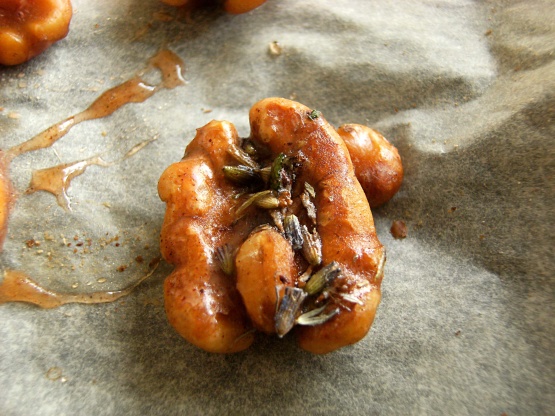 Lavender and Rosemary Spiced Walnuts
3 recipe photos
Directions
Preheat oven to 350 degrees.
Butter a baking pan and spread the walnuts. Bake for 5 minutes, stirring once, until lightly browned and fragrant. Set aside.
In medium saucepan, combine the sugar, water, cinnamon, and salt. Over medium heat, boil without stirring until the mixture reads 238 degrees F (soft ball stage) on a candy thermometer. The sugar syrup is very hot, so take caution.
Remove from the heat and stir in the lavender, rosemary, and walnuts. Work quickly and stir gently until all of the nuts are coated.
Transfer the nuts to the buttered baking sheet and spread them in an even layer, separating them with two buttered forks.
Cool. Stir in an airtight container at room temperature or in a heavy plastic bag in the freezer.
*By crushing the lavender with a mortar and pestle instead of a spice grinder, you can release the essential oils and still keep the buds partially intact. This gives the nuts more visual appeal, because you can see the bits of lavender florets in the sugar coating.