"This beautiful, delicious salad can be made the day before, is a little different, and serves 25+ people. Don't let the long list of ingredients scare you. This is VERY easy. But, do NOT leave out the cornbread. It's my favorite dish to take to potluck or covered dish suppers - and there is never any left! For vegetarians, omit the real bacon bits. Vary the ingredients to suit your taste and ingredients on-hand."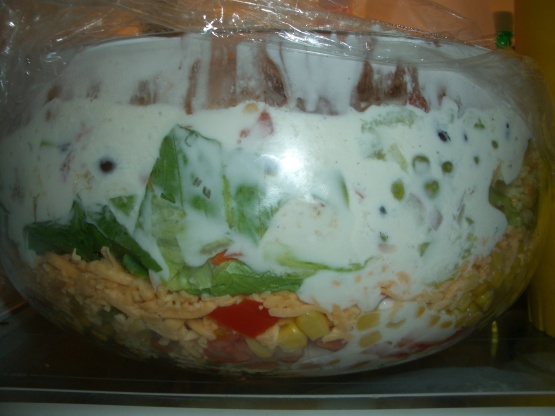 Layered Cornbread Salad
1 recipe photo
CORNBREAD

1

(8 ounce) box Jiffy cornbread mix

1⁄4 cup Egg Beaters egg substitute or 1⁄4 cup egg substitute
1⁄3 cup skim milk

SALAD DRESSING

16

fat free ranch dressing (OR make your own 1 pkg. dry Ranch salad dressing mix, 8 ounces fat-free sour cream, and 1 cup low-fa)

SALAD

16

ounces canned pinto beans, drained and rinsed

16

ounces cranberry beans or 16 ounces october beans

3

cups shredded low-fat sharp cheddar cheese

3

large ripe summer tomatoes, diced and drained or 1 pint sweet grape tomatoes, cut in half
1⁄2 cup green bell pepper, diced
1⁄2 cup red bell pepper, diced

3

medium spring onions, thinly sliced (optional)

4

ounces chopped green chilies, drained

15

ounces canned corn, drained

3

cups coarsely chopped romaine lettuce

1

cup frozen green pea, thawed

OPTIONAL INGREDIENTS

1⁄2

cup hormel real bacon bits (I use Hormel or Oscar Mayer) (optional)

2

ounces cooked elbow macaroni (optional)

16

ounces black-eyed peas, rinsed and drained (optional)

2

cups broccoli florets, cut into bite-size buds (optional)

2

cups diced celery (optional)

1

(6 ounce) can sliced water chestnuts, cut in quarters (optional)

16

ounces kidney beans, rinsed and drained (optional)

16

ounces canned great northern beans, rinsed and drained (optional)

16

ounces canned black beans, rinsed and drained (optional)
Directions
Make cornbread and bake according to package instructions.
Crumble cornbread and set aside.
If making your own salad dressing: mix all ingredients in bowl and set aside.
Assemble salad as follows, forming pretty layers in order listed:.
Place 1/2 of cornbread crumbles in bottom of very large serving bowl.
Top with pinto beans, tomatoes (1/2 of these), corn, red and green bell peppers (1/2 of these), chilies, and cheese.
Repeat layers as follows: Romaine lettuce, cornbread crumbles, spring onions, green peas (uncooked), cranberry beans, and remaining red and green bell peppers.
Spoon salad dressing over top of salad and spread to cover top of bowl.
Sprinkle remaining cheese on top.
Sprinkle cheese with tomatoes and bacon bits (optional).
Tightly cover with plastic wrap and refrigerate up to 24 hours before serving.
It's better if it sits at least 4-6 hours for flavors to blend.
Play with the layers and substitute for anything you don't like-- just be sure to keep the cornbread layers and salad dressing on top.
NOTE: If you add a lot of Optional ingredients, use more salad dressing accordingly, so you have enough to lightly coat salad when it is tossed as people spoon to the bottom to get a serving.
Vegetarian Note: Jiffy corn bread is NOT Vegetarian due to animal shortening as a primary ingredient. Use another brand that is.