"I had enough pastry over one day to make an extra pie or quiche. I had things in the fridge that needed using up and simply threw them all togther in an experiment... it came out so well that now I make it regularly. You could also throw in a small amount of broccoli, or cauliflower, but the flavour of just the original ingredient is still the one that we like the most. The amount of sprouts is a "guesstimate" since 1-2 handfuls is enough, depending on the size of the sprouts)"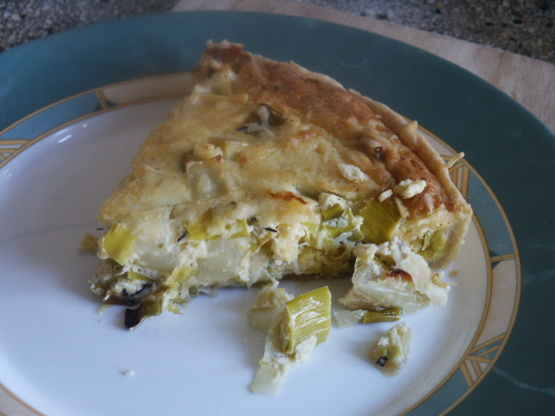 Leek, Onion, Brussels Sprouts Quiche/Pie
4 recipe photos
Directions
Combine the first 8 ingredients in a pan and saute gently until the onions and leeks begin to soften.
Take off the heat and let cool.
Cut your cream cheese into small blocks and stir well into the leek mixture.
Add the grated cheese, cream (if using), eggs, salt and pepper and mix well.
Scoop into an unbaked pie shell and cook for 40 minutes at 180 C (350 F).
I got one extra (smaller pie) simply by adding another leek, onion more sprouts to my main mixture. I can't get pie crusts ready made here so used 4Susan's Basic pastry recipe #148258 which makes one larger pie and one smaller one (as shown in my additional photographs).