"This is a moist, refreshing cake that presents beautifully. The inspiration for it came from a friend who loves the flavor of lemon and from luvmybge's Chocolate Bavarian Torte (
Chocolate Bavarian Torte
). I wanted to use 9 inch cake pans but wanted the split layers to be a bit thicker so I have to thank Laurie for her Cake Mix Extender (
Cake Mix Extender
). I hope you enjoy this as much as my company did. My thanks to luvmybge and Laurie."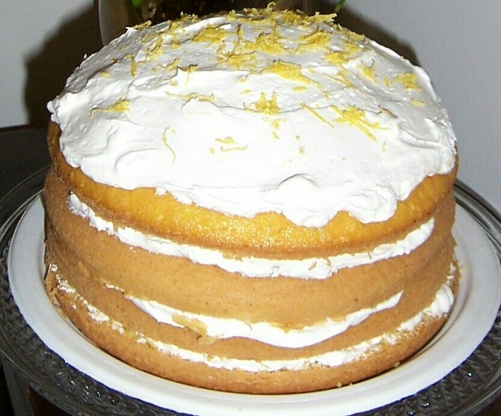 Lemon Bavarian Torte
1 recipe photo
Directions
Combine the flour, granulated sugar and baking soda with the dry cake mix.
Add the wet ingredients called for on the cake mix box to the dry ingredients as directed.
Add the water, oil and egg found in this recipe in addition to that on the cake mix box.
I used 9 inch round cake pans.
Bake cake as directed.
It may be necessary to add 5 minutes to the baking time.
Test for doneness as directed on the box.
Cool completely.
Split each layer in half.
FILLING:.
Cream confectioners sugar, vanilla, cream cheese, lemon extract, salt and lemon zest until light and fluffy.
(A taste will tell you if it is lemony enough. If not to your liking add a bit more lemon extract).
Fold in whipped cream or non-dairy whipped topping.
Put one layer on plate.
Top with some of filling.
Add next layer.
Top with more filling.
Add third layer.
Top with more filling.
Add top layer and spread the rest of the filling on top.
Garnish with lemon zest.
Refrigerate.