"I replaced standard cucumbers with lemon cucumbers from our garden! Adapted from ichef.com with a nod and hat doff to another site (grouprecipes.com) for the hummus idea. If you dislike mint, try another fresh herb: basil is always an excellent choice, lovage, salad burnet or good ol' parsley. For a more substantial meal, add greens-arugula, baby spinach, loose leaf lettuce; perhaps some finely minced shallots, heirloom toms, ad infinitum..."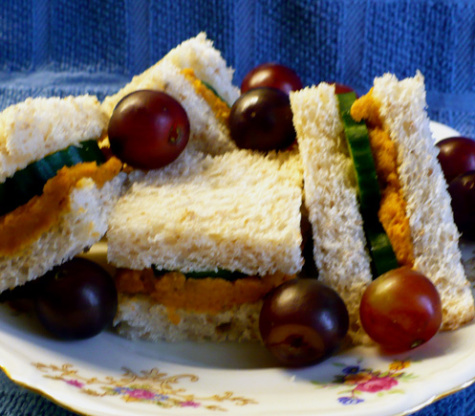 Lemon Cucumber Tea Sandwiches With Minty Mayonnaise (Or Hummus)
2 recipe photos
Minty Mayonnaise

1

egg yolk

1⁄4 teaspoon Dijon mustard

2

tablespoons fresh lemon juice
1⁄3 cup fresh mint leaves, loosely packed
1⁄2

cup sunflower oil

salt, to taste
cracked black pepper or white pepper, to taste

Tea Sandwiches

8

thin slices homemade wheat bread, your choice to remove crusts (ok to substitute white or multi grain bread-we used a 9-grain bread with sunflower seeds)

3

lemon cucumbers, peeled and thinly sliced (approximately)

greens, washed and dried (optional)
Directions
Note: If you have concerns about the raw egg yolk, use a good quality store bought mayonnaise or substitute cream cheese (softened). For a vegan version, replace the mayonnaise with hummus or a mayo' substitute: Recipe #754 for example.
Minty Mayonnaise: in a blender or food processor, combine the egg yolks, mustard, lemon juice, and mint.
With motor running, add the oil in a slow steady stream and blend until emulsified. Season to taste with salt and pepper and transfer to a bowl.
Tea Sandwiches: Spread each slice of bread generously on one side with the mayonnaise.
On half the slices, arrange an even layer of lemon cucumber slices. Top with remaining bread slices.
Cut each sandwich into quarters before serving.