"I got this recipe from the new "Kosher by Design Short on Time" cookbook; according to that, prep time is 10 minutes and cook time is 12 minutes. It took me a lot longer than that, but it's a lovely cookie nonetheless!"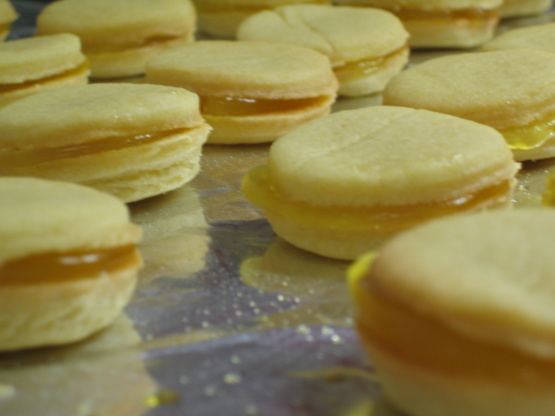 Lemon Drops
3 recipe photos
Directions
Preheat oven to 375°F Line 2 large cookie sheets with parchment paper. Set aside.
In the bowl of an electric stand mixer, beat the butter or margarine and the sugar on high speed, until smooth and creamy. Add the egg yolk and vanilla and lemon extracts. Mix for 1 minute, scraping down the sides.
In a medium bowl, sift the flour and salt together. Add half the flour mixture to the egg mixture. Add the milk and then the remaining flour mixture. Mix until just combined. Set aside.
Place the dough between two pieces of parchment paper and, with a rolling pin, flatten to 1/4-inch thickness. Using the top of a spice jar or a 1 1/2-inch round cookie cutter, cut out cookies. Re-roll the scraps into another mound of dough to be rolled out.
Place the rounds 1 1/2 inches apart on the prepared cookie sheets. Bake for 10 - 12 minutes or until golden. Remove from oven and let cool for 10 minutes.
Fill a fine mesh sieve with the confectioner's sugar. Hold it over the cookies and tap the sieve lightly with a fork or spoon to shake out the sugar, completely covering the cookies.
When the cookies are completely cool, turn 1 cookie over, spread a small dollop of lemon pie filling on each and top with a second cookie to form a sandwich. Repeat with remaining cookies until all cookies are used up.