"I was looking to make sugar cookies for an event and disappointed to not find a relatively healthy version here. So now I'm adding one. This one began as a Cooking Light recipe and includes my adjustments. Not your typical sugar cookie, the wheat germ gives these a pale brown color and a nuttiness that contrasts nicely with the lemon glaze. The dough needs to chill at least four hours and does best if chilled overnight, so you need to plan ahead with this one."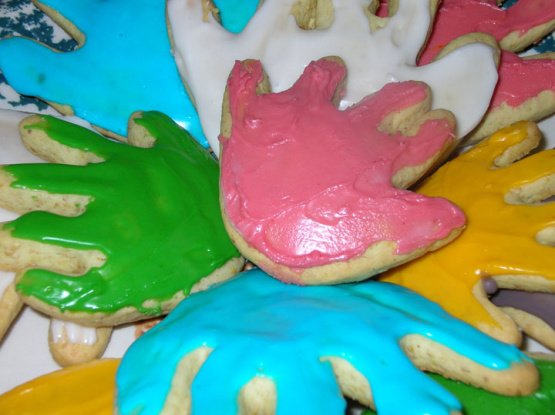 Lemon-Frosted Sugar Cookies
1 recipe photo
Directions
To prepare cookies, beat Splenda, sugar, yogurt and butter in a large bowl at medium speed of a mixer until well blended (about 4 minutes).
Add egg, egg whites, lemon zest and vanilla beating well.
Lightly spoon flour into dry measuring cups; level with a knife. Combine flour, wheat germ, baking powder, baking soda and salt. Add dry ingredients to the sugar mixture, mixing well. Spoon dough into a sealable bag, flatten to 1 1/2-inch disc and chill 4 hours or overnight.
Preheat oven to 400°.
Roll dough to a 15 x 12-inch rectangle on a heavily floured surface. Cut dough into 20 (3-inch) squares using a sharp knife. If the dough gets very soft in this stage, return to the fridge to chill again to retain firmness. Too much flour will end with a tough cookie.
Alternately, use your favorite cookie cutters to make shapes; note this may change the yield and nutritional value per cookie.
Place cookies 2-inches apart on baking sheets prepared with a light coat of cooking spray.
Bake at 400° for 8 minutes or until golden. Immediately remove cookies from pans using a wide spatula, and cool on wire rack.
To make icing, combine powdered sugar, 1 tablespoon milk, lemon juice, and 1/4 teaspoon vanilla. If the icing seems too thick, add a bit more lemon juice to thin. Stir in food coloring, if desired. Spread about 2 teaspoons of the icing over each 3-inch cookie, or place icing in a small zip-top plastic bag or pastry bag and tip. If using disposible bag, trim a tiny hole in one corner, and drizzle icing over cookies.
If the icing seems to be too thick you can add more lemon juice (which will make the icing more tart) or you can add a little more milk (which keeps the flavor more neutral).
Sprinkle with assorted sugar sprinkles or other decorations, if desired.