Want more from Genius Kitchen?
Watch on your Apple TV, Roku, or Fire TV and your iOS, Fire, or Android device.
Learn More
"This is such a nice fresh appetizer and so easy to make. Don't shy away because there are 3-4 steps; it is actually very very easy, and so worth making. The ricotta will last 5 days (approx) in the refrigerator, and very important is to make sure to use good fresh milk and cream. I like to top my crostini with the arugula then the ricotta and tomato, but feel free to skip the arugula. To me it is such a nice compliment to the creamy ricotta. These bite size appetizers and a bowl of soup or a salad can be dinner for me."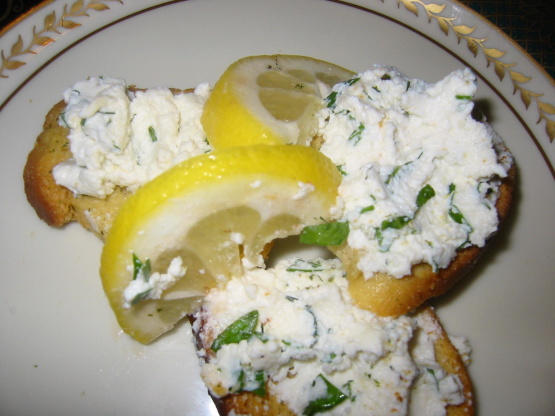 Lemon Herb, Homemade Ricotta & Roasted Tomato Crostini
1 recipe photo
Directions
Ricotta -- First step is to make your ricotta which - seriously makes itself. It is so easy. You will need a heavy bottomed pot or strainer or colander, cheese cloth and a big bowl. Step 1: Set up your colander over a large bowl. Make sure there is plenty of room in the bowl for the liquid to drain. Take 2 pieces of damp cheese cloth and line the colander. Step 2: In a medium to large pot, bring the milk, cream and salt to a rolling boil on medium heat stirring often. Once it is boiling add in the vinegar and immediately remove from the heat and stir. The vinegar will cause the milk and cream to separate and form curds. Stir a couple of times, wait 2-3 minutes, and then pour it into the strainer or colander on top of the cheese cloth. You will see the whey or clear liquid separate from the milk curds and drain to the bottom of the bowl. Let it rest at room temp for about 15-20 minutes to cool before you put it in the refrigerator. Just make sure as it sets in the refrigerator that none of the liquid in the bowl is touching the bottom of the ricotta. Make sure to cover the ricotta with saran wrap. Personally, I like to let mine set over night, but at least 4 hours to cool down and set.
Tomatoes -- I like to have these chilled rather than hot, so I make these ahead of time too. Couldn't be easier. Oven at 425, line a baking sheet with aluminum foil or parchment paper and add the tomatoes. Drizzle with olive oil and season with salt and pepper. Bake for approximately 10 minutes until they begin to soften, but not falling apart. Let cool, transfer to a plate and cover. Done!
Herbed Topping -- Add the ricotta, lemon zest and juice, scallions, herbs, salt and pepper. Mix well and set to the side. I prefer to make this right before I serve.
Baguettes -- Some people bake them on a high temp in the oven, personally, I prefer to broil mine. They take only a minute or two and it is easy. I line a baking sheet with foil or parchment paper and add the baguette slices. Drizzle with olive oil and broil the first side. Once golden brown, flip and broil just another minute until brown. Remove and rub the garlic on the side you drizzled with olive oil. That is the side you will add the toppings to. The garlic is optional, but I think it gives it a great taste.
Finish -- Top each of the baguette with a little of the arugula (optional), then a spoon of the ricotta and a tomato slice. ENJOY!
Prep time doesn't include the chilling of the ricotta.
get the genius kitchen app.
Watch on your iPhone, iPad, Apple TV, Android, Roku, or Fire TV.
Learn More