"Found this in one of my old British cookbooks. I make this whenever I have some unwaxed lemons to use up. It has a very strong tangy lemon flavour due to the glaze. It keeps well for 2-3 days wrapped in foil. This cake be frozen after being baked and glazed; thaw in wrap at room temperature."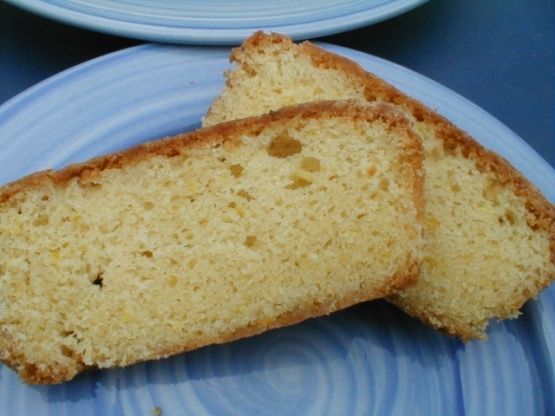 Lemon Loaf Cake
1 recipe photo
Directions
Butter an 8 1/2 by 4 1/2 inch (top measurements) loaf pan well and line with parchment or siliconised baking paper.
Preheat oven to 350F, 180C, gas mark 4.
By hand, cream together the softened butter and caster sugar.
Beat in eggs one at a time then stir in the grated lemon zest.
Gently stir in the flour.
Pour into prepared loaf pan and place in centre of oven to bake for 50-60 minutes or until a wooden skewer comes out clean. A slight dip may form in the middle of the loaf but this will not affect texture.
While loaf bakes, make glaze.
To make glaze, you need only 2 tablespoons of the fresh lemon juice to mix into the 2oz of icing sugar. Beat the glaze well so no lumps form.
When fully baked, turn out loaf onto a rack over some waxed paper or pan (to catch glaze drips).
Poke the cake bottom all over with a wooden or metal skewer and brush the cake evenly with glaze.
Turn cake over and repeat for the top until all of the glaze is used up and absorbed by the cake.
Cool on the rack, then serve sliced.