"Requested by MarraMamba in the "Lighten up your favorite comfort food" challenge. Original recipe:
Lemon, Ricotta and Sour Cream Pancakes
. These are delicious pancakes that are very fluffy and delicate, with a mild lemon flavor. Each serving contains 6.5 grams of fat, 2.8 grams of saturated fat, and 95 mg cholesterol (calculated from ingredient labels)."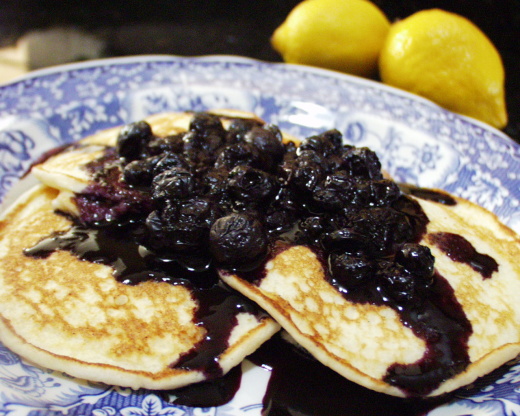 Lemon, Ricotta and Sour Cream Pancakes (Light Version)
6 recipe photos
Directions
In a large bowl, mix ricotta, sour cream, regular tub margarine, vanilla, buttermilk, sugar, cinnamon, salt, lemon zest, and one whole egg until incorporated.
In a mixer fitted with a whip attachment, beat four egg whites to stiff peaks.
Sift flour and baking powder into the bowl of ricotta and other wet ingredients, and stir until barely combined.
In several batches, gently fold egg whites into the batter (do not re-stir the batter again after this, or it will deflate).
Ladle approximately ¼ cup of batter for each pancake onto prepared griddle. Cook until bottom is golden brown and bubbles start to form. Flip and cook second side until done.
We love these topped with lemon curd, but you could also try them with maple syrup.