"From EatingWell: Summer 2004, EatingWell for a Healthy Heart Cookbook (2008), and The EatingWell Healthy in a Hurry Cookbook (2006). Salmon and lentils are a familiar combo in French bistro cooking; here they combine in a quick and easy salad. For the best presentation, flake the salmon with a fork, then stir gently into the salad to keep it in chunks, not tiny bits."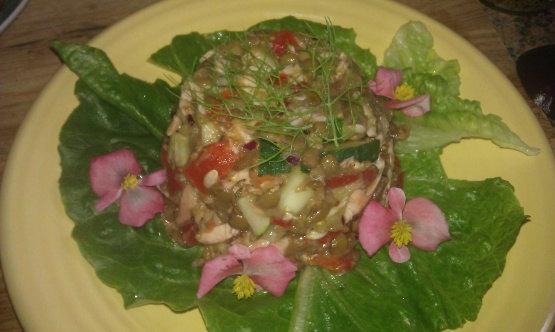 Lemony Lentil Salad With Salmon
1 recipe photo
Directions
Whisk lemon juice, dill, mustard, salt and pepper in a large bowl.
Gradually whisk in oil.
Add bell pepper, cucumber, onion, lentils and salmon; toss to coat.
Per serving (1cup): 354 Calories; 18 g Fat; 3 g Sat; 12 g Mono; 31 mg Cholesterol; 25 g Carbohydrates; 24 g Protein; 9 g Fiber; 194 mg Sodium; 743 mg Potassium. 1 Carbohydrate Serving.
Exchanges: 1 starch, 1/2 vegetable, 3 lean meat, 2 1/2 fat.
MAKE AHEAD TIP: Cover and refrigerate for up to 8 hours.
TIP: To cook lentils: Place in a saucepan, cover with water and bring to a boil. Reduce heat to a simmer and cook until just tender, about 20 minutes for green lentils and 30 minutes for brown. Drain and rinse under cold water.