"My friend came over a few weeks ago and asked me to help her make gluten free sugar cookies. What we came up with was a soft, chewy cookie with crisp edges from rolling them in sugar before baking. They're light, sweet, and fluffy with a bit of tang from the addition of cream cheese and from lemon juice. They're perfect to brighten up a winter day (probably even better for spring and summer…let's face it, they're amazing year round). Recipe adapted from Two Peas and Their Pod."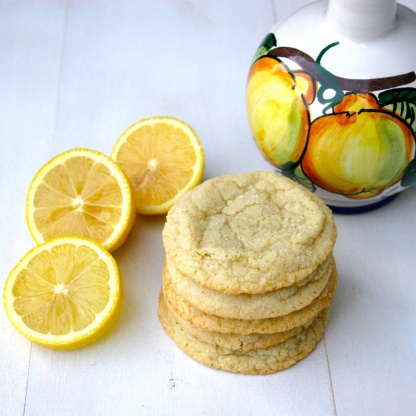 Lemony Rolled Sugar Cookies
1 recipe photo
Directions
Preheat oven to 350ËšF. Line your baking sheets with parchment or a silpat mat and set aside.
In a large bowl, mix together all the flours, xanthan gum, baking soda, baking powder, and salt and set aside.
Using a mixer, beat the butter and cream cheese until well combined and smooth.
Add the sugar and combine until smooth yet fluffy.
Add the egg, vanilla, and lemon. Mix until combined.
In a large bowl, add the dry ingredients gradually. Allow them to incorporate after every addition before adding more.
I use a cookie scoop to get evenly sized cookies. Place the extra sugar on a plate or in a bowl. You want them to be a rounded tablespoon. Roll the dough into a ball the sugar til coated on all around.
Place on a baking sheet 2 inches apart.
Bake 9-12 minutes. My bake time was 7 minutes, turn, and 4 minutes. You want them to be SLIGHTLY browned on the edges.
Allow to cool on the baking sheet for a few minutes.
Transfer to a cooling rack. While most cookies are best right out of the oven, sugar cookies, in my opinion, are an exception. I think they're much better once completely cooled. Even better the next day actually. Something about how they rest I guess. Plus the flavors all seem to come together better once they have cooled. Store them in an airtight container to keep them soft and chewy.