"This dish is traditionally cooked in Algeria for eating during Ramadan and on special ocassions. It is hardly ever eaten as a main course, but as a small dish after the main. This recipe freezes well. In my family, it's only my husband that eats it so I freeze individual portions for him. I tend to play around with the recipe and change the fruit around and add a little extra liquid. This is just one of hundreds of variations of this recipe, I will post a few alternatives later."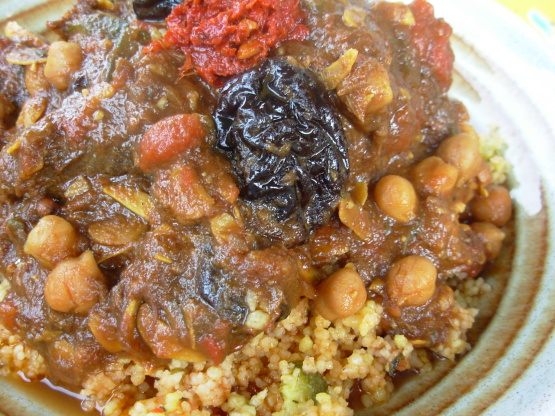 L'ham Lahlou - Algerian / North African Sweet Lamb Dish.
2 recipe photos
2 1⁄2 lbs lamb, cubed

3

tablespoons butter
1⁄2 teaspoon ground cinnamon

3

cups water
1⁄4 cup sugar

16

prunes, soaked and drained (ready to eat)

2

tablespoons raisins

2

tablespoons almonds

1

pear, peeled and cubed
1⁄4

cup orange juice

1

teaspoon orange blossom water (mazhar)
Directions
Melt the butter in a heavy bottomed pan. add the lamb and saute over a low heat for around 5 minutes.
Add the water, sugar and cinnamon and mix well. Cook on a moderate heat for approximately 40 minutes.
Add prunes, raisins, almonds, pear and mazhar. Simmer for 15 more minutes. Add the orange juice and mix well before serving (make sure you have a good mix of ingredients in each portion).