"This is easy to make and healthier than most other versions. You don't have to be a vegetarian to love this. This is adapted from FC magazine."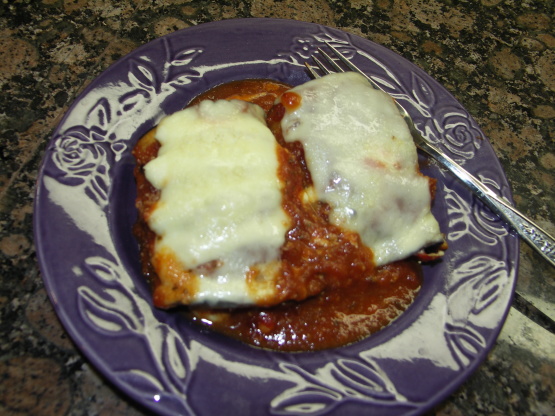 Lightened up Eggplant ( Aubergine) Rollatini
3 recipe photos
Directions
Trim tops and bottoms from eggplant. Cut each into 6 lenghtwise slices, about 1/2 inch thick. Spread slices onto 2 large cookie sheets lined with paper towels. Sprinkle slices with 1/4 teaspoons salt, then turn over and sprinkle with 1/4 teaspoons more salt. Let stand 15 minutes, flipping slices halfway.
Heat grill, grill pan, or saute pan to medium-high heat. Quickly rinse eggplant slices under running water;pat dry. Spray both sides with nonstick cooking spray. Grill or cook slices until soft, about 4 minutes on each side. Return slices (do not overlap) to large cookie sheets (without paper towels).
Heat oven to 350 degrees and coat a 13x9x2-inch baking dish with nonstick cooking spray. In a small bowl, stir together 3/4 cup of the mozzarella, the ricotta, egg yolk, Italian seasoning and pepper. Stir until well combined.
Divide red pepper pieces evenly among eggplant slices, placing them going across the width on the wider end of each slice. Top each pepper with a heaping tablespoon of cheese filling. Place 1/2 cup of the marinara sauce on the bottom of the prepared dish. Roll up eggplant slices starting at the wide end and enclosing filling. Place in dish. Top with remaining 1 cup marinara sauce, remaining 3/4 cup mozzarella and the grated Parmesan cheese.
Bake at 350 degrees for 25 minutes. Remove to wire rack and cool at least 10 minutes before serving. Add salt to taste.